You know the TechSoup marketplace. In fact, it's likely the first thing you knew about us. You know that we work with software providers — from Fortune 50 companies to boutique product development groups — to connect their philanthropic goals with civil society organizations around the world. Right now, you experience the marketplace as a catalog of donated and discounted offers that help you reduce costs, use market-leading products, and find solutions that work for you.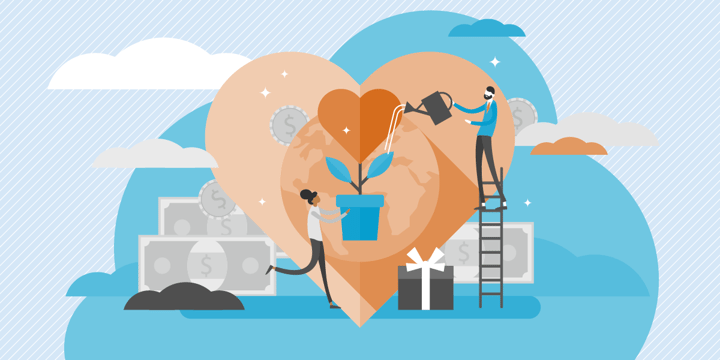 Here's the thing: Together, we can do so much more.
We can provide better and more intelligent ways for you to navigate the marketplace. Ways that allow you to share a little bit of information and get a customized series of recommendations.
We can package solutions and make them available in the marketplace. What does that mean? That means we put together the products that make sense for you — an organization that helps young people with mental health issues, or supports families experiencing food insecurity, or finds shelter for domestic violence survivors.
And we can also expand what we mean when we say "products." Right now, these are predominantly solutions like Microsoft 365, Adobe Creative Cloud, or a Cisco 880 Series integrated services router. But why can't we include the consultants that help you with those items, or the training that makes sure your staff knows how to take advantage of them?
While we are at it, why not include connections to other civil society organizations? Maybe they can share their own stories of technology implementation. They could even share Power BI templates they've made, IFTTT scripts, and policies around their use of data.
The possibilities are endless, and I'll be diving into these points in greater detail in just a moment. But I'd first like to take this opportunity to remind you that we are currently in the middle of a Challenge Match for our direct public offering (DPO). For a limited time, TechSoup volunteer board members are matching investments dollar-for-dollar up to $500,000 throughout the course of the campaign, for a total $1 million investment. Right now, we're hoping to raise $150,000 — making for a $300,000 investment — by July 31.
I'm sharing this with you because we will be using funds raised through our DPO to make investments in things like a new nonprofit marketplace. If you haven't had a chance, I'm asking you to also take some time to learn a bit more about this exciting opportunity to support TechSoup, and the more than one million civil society organizations we work with worldwide.
And with that, let's return to the subject at hand: a new marketplace, built just for nonprofits like you.
A New Way to Navigate the Marketplace
We are actively working to build an ICT assessment tool (we promise to come up with a better name). In a nutshell, this tool will give you an opportunity to share some information about your technology systems, policies, organizational priorities, and staff capabilities in order to get a series of customized recommendations. Across the network, our partners have piloted a version of this tool, and it's now our turn to build out its capabilities even further.
We recently received a grant of $500,000 from a coalition of Bay Area technology corporations to work on this project. The coalition was led by VMware along with Okta and is supported by contributions from Box, Adobe, and Cisco. This money, along with additional funding sourced through our DPO, will be used to get us across the finish line in order to create a valuable tool designed specifically for assessing and building tech capacity in the nonprofit sector.
Innovative Service Offerings for Nonprofits
As more and more software moves from a one-time fee to a subscription-based model, it's become necessary for us to rethink how we support nonprofits using these solutions.
You may have seen the increased number of services that TechSoup is offering either directly or in collaboration with our valued partners. These services are meant to support NGOs as they move to cloud computing platforms, such as Microsoft 365. We want to provide more of those services, including very targeted "micro-services" aimed at doing one simple thing and doing it well — like configuring your email with your new domain automatically. But we're also going to offer more extensive migration and management services, like the services we offer with TechImpact. We'll keep you posted with updates as they arise.
Strengthening the connection between new software and the services that accelerate its successful implementation is, simply put, the next frontier in the tech world. Nonprofits need to keep pace with this evolution if we are going to do right by our organizations and our beneficiaries. To that end, we will also keep developing courses that give you the skills you need to use, administer, and innovate in the technology that you use at your organization.
Presently, you can find products, services, and courses here at TechSoup. So what will be the difference? Soon, we'll bring these all together in ways that make the most sense for you and your organization, ways that allow you to develop your technology capacity so that you can better serve your mission. This requires an investment in a more robust technology platform that surfaces the resources that allow you to accelerate your use of technology — whether those resources are people, educational materials, products, a story from another nonprofit, or a quick answer to your questions.
And how will we intelligently compile those resources, specifically for your organization? Well, that's where the ICT assessment tool I mentioned earlier comes in. But we'll also be drawing upon our deep understanding of nonprofit technology needs after 30 years of work in this sector. All of this amounts to a groundbreaking solution that helps nonprofits reach the next stage of their digital transformation and beyond.
A New Platform Building a Stronger Network of Civil Society Organizations
We call the platform that powers this the Cooperative Technology Platform (CTP). It's envisioned by the leadership of TechSoup and being built by our teams in San Francisco, California; Corinth, Mississippi; and London, U.K.
The CTP is a constantly evolving, cooperative ecosystem for developing cloud services and applications. It will allow TechSoup, our partners, and the nonprofit community at large to access, create, and share resources that will allow organizations to deliver on their missions like never before.
At the core of the CTP is the Common Data Model (CDM), which allows for the unprecedented aggregation of civil society data across geographic locations, programmatic areas, and organizational IT frameworks. The CDM is accessed through a series of interfaces — all available on the CTP — and this allows for a rich app-building environment that can power a tremendous amount of social change.
Eventually, this platform will also support the development of applications by community members like you. In the immediate future, we'll enable applications to be built using an app framework designed for those with app development skills. But ultimately, we'll build a low-code, "drag-and-configure" environment that will allow for app development by people without comprehensive coding skills. And no matter which category you fall in, that's some exciting stuff.
But the truth is, the CTP is already being built by community members like you. By participating in our network and telling us what you need, you're informing how we build this groundbreaking new platform. By attending the events we've held, as well as those we're going to present in the future, you're contributing to the comprehensive knowledge base from which we're drawing to make this a solution that works for you.
And by continuing to support civil society in all the ways you do, you make all of these big plans we've got in mind worth our investment — every step of the way.
We Can Achieve This Vision
We believe that civil society organizations deserve a place to find the resources, training, and support services that allow them to transform their use of civil society. We want to build the marketplace that allows people to connect to access the resources they need and offer the resources we have. Together, we can do this.
This is one part of a series of posts describing the investments we are making with our Growth Capital Campaign. Read the other parts:
Additional Resources