As we enter the next phase of the pandemic, many of us are still getting used to remote life as the norm. With new variant strains and vaccine mandates, many offices will remain hybrid or remote, and in-person professional community events and engagement are not in our near future. Therefore, it's more important than ever to reach out and grow our networks and online communities through social media.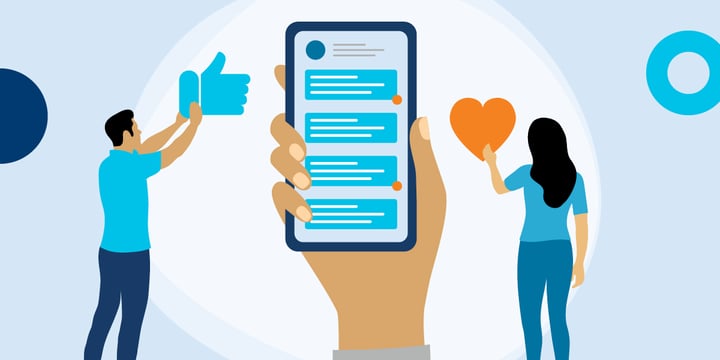 Here are four nonprofit social media trends and strategies that are on the rise and will only increase in popularity this year.
Social Back Channels During Hybrid Events
Hybrid events are remote, online, and in person, concurrently, often with Twitter back channels to tie the experience together. A social back channel is a separate but related online conversation that occurs during a specific event. These often happen on Twitter and are meant to be additive — not distracting — to the primary conversation. Hybrid events allow for remote participation from your entire community. Having a social back channel allows for a community-led event engagement experience that would not be possible in a closed, in-house event.
Back-channel discussions that happen while an in-person and virtual event is live-streamed will allow you to leverage and engage your superfans and expert ambassadors to benefit your cause without too much of a time investment on their part. A simple retweet or comment on a back-channel thread can amplify the reach of an event if it comes from the account of an influencer.
Other social media platforms like Instagram will allow you to collaborate with your members to have live events that are co-hosted by two Instagram accounts. This can also allow for the same type of easier request to engage an influencer to join your event.
Learn more about how to host hybrid events in our blog post.
Audio Social Networking Platforms
Clubhouse and Twitter Spaces are the two newcomers in this category.
Clubhouse
Although it may not be known by all, Clubhouse attracts nearly 2 million active users weekly.
Clubhouse is "a space for casual, drop-in audio conversations with friends and other interesting people around the world." It's essentially a cross between a chat room and a podcast; however, listeners can respond vocally to the speaker.
Since there are no business accounts on the app, everyone joins and speaks as individuals. Organizations can have a presence in Clubhouse by creating a room or a club. Using word of mouth, the app provides a platform for an organization to talk about itself and network with like-minded individuals.
Twitter Spaces
Twitter Spaces is a new way to have live audio conversations on Twitter. It's similar to Clubhouse, but there is not currently a way to jump in and see what is happening at any given time across all Spaces.
This new feature set of Twitter allows you to host live events within your own existing Twitter network, so you don't face the challenge of having to build your audience from the ground up. There is also the added benefit that Twitter will broadcast your event, when it goes live, to your entire network. It's also likely that your event announcement will be pushed widely, due to the algorithm prioritizing new features in most social media platforms.
Currently, the platform is mostly used by those in the cryptocurrency and NFT world, but we anticipate that this will be the most common platform for nonprofits seeking to host a live event on social media in 2022, as it requires little to no production experience or resources. Here's a helpful guide on how to host or promote a Twitter Space for your nonprofit or charity.
Live Social Video
Nonprofits should consider creating more live social videos in 2022. The best part of live video on social media is that your followers will receive a notification when your page goes live. Here again, the algorithm favors live video over produced and "natively" posted videos. Facebook Live, which has been around since 2015, continues to be a popular option.
Currently, you must apply to be approved to participate and use LinkedIn's live-streaming service, LinkedIn Live. But once you are, you will be rewarded for your participation by LinkedIn's algorithm and notification system encouraging those in your network to drop what they may be doing and watch your event. Creating live social video content will allow you to reach your followers in real time with an added bonus of a push notification to your audience.
You can use Instagram Live for donations and create a fundraiser in which 100 percent of the money raised goes directly to the nonprofit of your choice. Live videos receive, on average, seven times more reactions and 24 times more comments than native video produced by the same broadcasters. All of this amounts to more organic viewers and more engaged viewers of your nonprofit's online content.
Microvideos on TikTok
TikTok is an increasingly popular way for organizations to spread the word about what causes and issues they support by way of extremely short videos. Hashtags to use and discover nonprofits on TikTok are #nonprofittiktok #nonprofit #nonprofitsoftiktok. The hashtag #nonprofit has 155.1 million views — this clearly tells us that nonprofits are using the app and getting discovered.
Short TikTok videos are a great way to share quick awareness-building and educational information about your organization. Here is a worksheet to help nonprofits think about how to create informative and engaging content on TikTok with little video production experience needed. For more information on how your organization can use TikTok, check out TikTok for Good.
While we may not know what's in store for 2022, what we've all learned from the past few years is that it's important to stay nimble, stay informed, and stay connected to the needs of those you serve. The trends we've shared here are just a handful of the many exciting innovations happening in the world of social media, and at TechSoup, we're dedicated to keeping you in the loop. To stay up to date on all the latest happenings in the world of tech for good, be sure to follow us on social media, or join the TechSoup Forums Community.
Additional Resources
Top photo: Shutterstock