Throughout the years, we've had the unique pleasure of watching nonprofits around the world raise money for the causes they care about most. Whether they're fundraising for school supplies, clean water, or community aid, it's easy to spot trends across successful, goal-reaching fundraisers. In general, the most successful online fundraisers prioritize the donor experience from start to finish.
Seasoned nonprofit professionals are used to managing donor experience during in-person fundraisers, but doing so in a digital space takes some special considerations. Today, we'll share five tips to help you prioritize donor experience and make your next online fundraiser as effective as possible!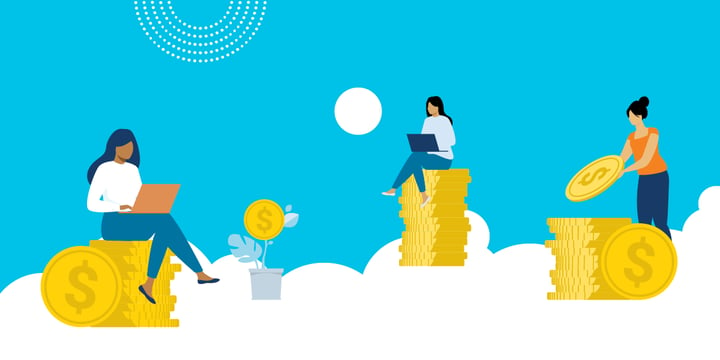 1. Don't Hide Your Fundraiser
When you consider your donors' experience, it's important to start at the very beginning. Your online fundraiser should be easy to find and well publicized in the right places. Do your research to find out where your potential donors spend time online and work to increase your organic presence in those spaces. Consider various mediums for getting the word out and choose those most likely to be visible to your potential donors. Many organizations successfully publicize their events through the following channels:
Email blasts to current donors and supporters
Social media posts designed to be shared by supporters and sponsors
Op-eds in the local paper or online news source
Campus newspapers
Social media groups
Cause-specific publications
Once your donors know about your fundraiser, it should be easy to find. Create a modal popup on your organization's main website with a direct link to your fundraiser and make sure your social media bios are updated to include it. Creating a customized URL with the keywords of your choosing, rather than random letters and numbers, is an excellent way to help donors find their way to your fundraising page quickly.
2. Let Your Donors Know It's Really You
When donors arrive at your fundraising page, it should be visually clear that this fundraiser belongs to you before they ever read a word.
If you're using a fundraising platform such as RallyUp, customizing your page with the fonts and colors outlined in your organization's style guide will be easy. You'll also want to be sure that your logo and any other recognizable assets are front and center. Choosing a platform that lets your brand shine and doesn't splash its logo across your page can help your donors know they're at the right place.
3. Invest in Your Content
As donors take a closer look at your page, they should see clear, professional-quality images. Each image should tell a story and inspire visitors' curiosity and desire to learn more about your work.
The text on your page should be professional and should clearly outline several key facts. After reading your page, your donors should know three things:
Who you are
What your mission is
Why you're fundraising right now
Investing in your content (even if you need external photography and copywriting support) will pay dividends when it comes to the donations you receive.
4. Recognize That Your Donors Want to Do More than Just Donate
Donors don't get excited about clicking a "donate now" button. They want to learn, have fun, engage with others who care, and know that their contribution matters. When they land on your page, your donors should be able to easily identify how they can interact and participate.
As you build your fundraiser, consider including multiple ways for donors to give and get involved. Many successful fundraisers, both those that are all virtual and those that are hybrid, include multiple revenue streams like raffles, auctions, sales, and more. You can also boost engagement by identifying ways that donors can interact with you and with one another in real time. Online tools exist to make fundraisers more engaging, so take your time as you evaluate your options.
5. Make It Simple to Spread the Word
Your donors and supporters shouldn't have to work hard to share your fundraiser. Using the tools within your platform can boost the shareability of your fundraiser.
Creating a QR code that can be printed on flyers or posters and enabling text-to-give makes it easy to spread the world in live or hybrid spaces. Enabling peer-to-peer fundraising takes support to the next level by letting your donors raise money on your behalf.
Best Practices for Any Online Fundraiser
While each organization should shape their fundraiser around their and their donors' needs and the many unique factors that make them who they are, there are some practices that make any fundraiser more effective. When you want to make participating as easy, meaningful, and fun for your donors as possible, be sure to do these things:
Make the link to your fundraiser easy to find
Create and follow a promotion plan specific to your fundraiser and your potential donors
Fully brand your fundraising page to your organization with appropriate colors, fonts, and logos
Make sure your copy tells your story as clearly and concisely as possible
Invest in a professional proofreader
Use quality images that convey a specific feeling or inspire curiosity
Make it simple for supporters and donors to share your fundraiser with others in their social circle
Create excitement and anticipation in the lead-up to the event
Remember that donor engagement looks different in a digital space but is vitally important
Create multiple ways for your donors to give
Build in ways for donors to connect with one another
Send follow-up and thank-you notes to all your attendees and donors
The Big Takeaway
When you're planning your online fundraiser, it's important to take a step back and consider how your donors will experience your fundraiser at every point of interaction. While each of these connection points offers a chance to excite your donors, there are potential pitfalls along the way that can cause donors to lose interest.
By selecting a platform designed with donor engagement and interactivity in mind, you'll already be a step ahead when it comes to prioritizing the donor experience. RallyUp makes it easy to fully brand and share your fundraising page, offers engagement tools like live-streaming and live trivia, and allows users to create single events with lots of different giving options. RallyUp is offered through the TechSoup catalog at a discount for users.
When you follow the dos and don'ts listed above and prioritize donor experience from start to finish, you'll create the most effective fundraiser possible!
Additional Resources
Top photo: Shutterstock