For nonprofits, 2020 was the year of going digital. Many transitioned their in-person fundraising events to virtual events. Others canceled in-person fundraising events and launched new online fundraising campaigns to make up for the lost revenue.
This year, we'll enter into another transition period. It will be some time before in-person interactions can occur, but many nonprofits are starting to look ahead and plan for in-person or hybrid (in-person/online combo) events — from galas and auctions to peer-to-peer fundraising walks, rides, or runs.
In addition to following safety and social distancing guidelines from the Centers for Disease Control for in-person activities, here's something important to remember: Moving to more in-person events doesn't mean moving away from technology.
In fact, this period of transition is an ideal time to rethink how technology can support your in-person fundraising efforts. It can help improve the donor experience and make your nonprofit staff more efficient and effective at fundraising.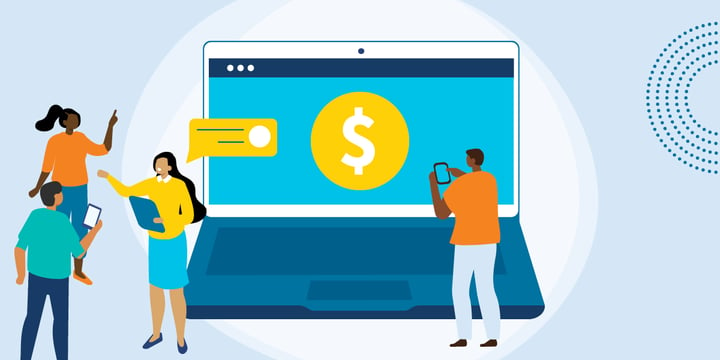 Here are five tips to keep in mind when you start transitioning your organization back to in-person events.
1. Remember the One Donor Experience
It can be easy to fall into the trap of thinking about the online donor experience and the in-person donor experience as two separate things. But they're not.
Just think: A one-day, in-person event might have six months of online donor interactions leading up to it. This includes website visits, social media posts, email marketing, event registrations, registration confirmation emails, and more.
Donors do not consciously think about their experience with your organization as online versus offline. Those entire six months of online interactions, the one-day event, and any post-event communications combine to form one donor experience.
That's why it's critically important to think about all of your touchpoints with donors and constituents for each fundraising event. Make sure you have the right technologies in place to support a great overall donor experience. You might include these tools:
Email marketing — for segmenting audiences and sending attractive, mobile-friendly emails (Here are some email outreach tips!)
Online fundraising — for creating event landing pages, registration forms, and donation forms
Customer relationship management (CRM) — for collecting and tracking all aspects of donor relationships — from campaign communications and donor history to donor demographic data
2. Challenge Assumptions About Your Donors' Expectations
One outcome of 2020 is that it changed everyone's comfort level with technology. Everyone — young and old — started using things like QR codes to access restaurant menus and Zoom for day-to-day meetings.
What does that mean for your fundraising events? Consider this example: You might have once believed that your donors would never go for using QR codes to access a web page at your fundraising event. But today, those same donors would likely be comfortable pulling up an online form on their phones via QR code to check out and pay for the silent auction items they just won. The result is a more streamlined event for your donors and your staff.
3. Use Technology to Reduce Friction and Increase Opportunities from Your In-Person Fundraising Efforts
When it comes down to it, fundraising is about relationship building. Employing the right technology can help your nonprofit staff build relationships in two major ways.
Gain Greater Insights into Donors
Technology tools like a CRM system can help you capture a wealth of donor data in one place. Instead of data housed in multiple systems and spreadsheets, the CRM system serves as the single source of information about your donors, giving you a complete view of your nonprofit's history and interactions with each donor.
Having this type of centralized data opens a wealth of opportunities, including these:
Quickly access details, such as the names of the donor's family, as well as the donor's giving history, before going to an in-person event with the donor.
Use donor data to send targeted, personalized email communications to promote events and create more impactful fundraising campaigns based on how donors have engaged with the organization.
Use reports and analytics tools to uncover donor trends and analyze results of fundraising events so you can find opportunities to improve future fundraising efforts.
Free Up Staff Time
Many tools available today can help you automate manual processes, which in turn gives your staff more time to focus on running great fundraising events and building donor relationships after the event. Some other examples:
Event management tools can help streamline many aspects of in-person events that took up a lot of staff time in the past, such as ticket purchases, seating charts, and printing name cards.
Payment processing platforms can be used to collect donations and the contact information of new supporters.
4. Track What Works and What Doesn't
One of the best ways to improve your in-person events is to take stock of what's working and what isn't. And one of the great things about technology is its ability to help you collect and share data. Marry the two, and you have the perfect formula for improving your fundraising event results. Here are some suggestions:
Create a shared document and encourage your staff to add thoughts to it throughout the planning, execution, and follow-up for the event. This approach helps you collect details about successes and opportunities for improvement. You can then turn those details into training documents and guidelines for how your staff should approach the next event.
Ask your staff to complete an employee version of a post-event online survey to gather feedback about the event while it's still fresh in their minds.
Ask your event attendees to complete a donor version of a post-event online survey to find out what they liked and didn't like about the event experience. This gives you a window into the donor experience and serves as another touchpoint with your supporters.
5. Establish Best Practices
As you uncover ideas about what works and what doesn't with your fundraising events, use technology to put those findings into practice for future events. For example, use a learning management system (LMS) to create short how-to videos or searchable documents that help train employees on event processes. Then, update the videos and documents any time you modify procedures, so your staff is always following the latest processes.
Learn More About How Technology Can Support Online and Offline Fundraising
The technology tools available today for nonprofits aren't just for virtual fundraising. There are several ways to link your in-person galas, 5K races, and auctions to the work you're doing online. The key is to have the right data, strategy, and tools. Having these components in place will give your organization the ability to evaluate your fundraising events, identify donor trends, and use accurate information to make more personalized asks, both online and offline. These activities ultimately lead to a better donor experience, making donors feel more connected to your cause and more inspired to give.
Find out more about the technology and strategies that can support your fundraising staff: Watch the on-demand webinar from Heller Consulting, Power Fundraising with CRM.
About the Authors
Jonelle Caldwell is a consultant with Heller Consulting. She has a passion for marrying her in-depth knowledge of nonprofit fundraising with the most cutting-edge technology to streamline the important work of her clients.
Jett Winders is the director of business development for Heller Consulting and works collaboratively with nonprofits to map their business needs to CRM tools so that they can deliver their missions more effectively and raise money more efficiently.
Additional Resources
Top photo: Shutterstock