It's a new year, hopefully one that brings renewed energy to your nonprofit's mission. Whether your organization is recovering from the pandemic disruptions, launching new initiatives, or wanting to connect more with your community, digital advertising can be an effective strategy to include.
Social media algorithms are making it harder for organic posts to reach your followers. But paid ads on platforms such as Facebook and Google can diversify your outreach channels beyond what you're currently doing.
If you are new to ads or have dabbled in them but want to optimize your campaigns, there are a few things you need to address first and foremost. What follows is the first installment of our two-part series that will help you launch a successful digital advertising campaign at your nonprofit.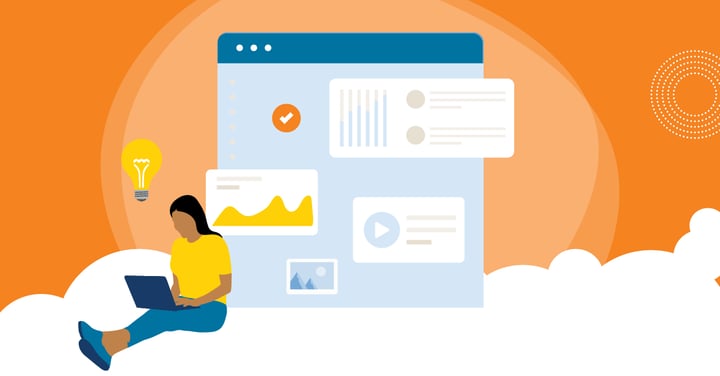 First, What Do We Mean by "Digital Advertising?"
Digital advertising refers to delivering promotional content to advertise an organization's brand, product, or service using various Internet-based platforms and tools. This includes, but is not limited to, advertising on search engines such as Google and Microsoft and advertising on social media networks, such as Facebook and Twitter. In this post, we will mainly refer to Google and Facebook ads, since they are two of the most-used platforms for digital advertising.
1. Set Goals and Timelines
Considering all the platforms and options out there, getting started with digital ads can be overwhelming. The first step is to think through your organization's goals, whether it's to increase website traffic, raise awareness of a new program, increase donations, or drive event registrations.
If you have a clear idea of what you hope to achieve, this will narrow in on which platform and type of ad you should use to reach the goal. For building awareness or promoting an event, Facebook ads are effective because you can target users based on their interests, find audiences similar to your existing supporters, and narrow in on a particular geographic area. If you are seeking to increase donations, Google may be more effective to find an audience that is already interested in your cause since they are actively seeking information on it.
Keep in mind that the setup and maintenance of Google ad campaigns takes time. Consider the resources needed for a staff member to learn and set up the platform or for hiring a consultant or agency.
This leads into the timeline for reaching your goals. Google ads are a long-term investment and better suited to reach long-term goals. If you have a short-term goal in less than three months, Facebook ads would be the best option. Each platform requires a learning period for the algorithms to gather enough data to optimize your campaign. You should plan to run any ad campaign for at least five days.
TechSoup offers courses on both Facebook advertising and Google Ad Grants.
2. Consider the User Journey to Choose the Right Objectives for Your Ads
You won't be going into ad creation completely alone. Each ad platform has different types of ads with different campaign objectives to choose from. Choosing the right objective for your campaign tells the platform what to optimize for. Objectives can include website traffic, impressions, leads, or purchase conversions, to name a few.
When you think through your supporter journey funnel, and how a prospect eventually becomes a donor, there are a few steps. It's important to consider where your prospect is in the funnel. The campaign objective you choose reflects that position in the funnel.
If your goal is to raise awareness and you want to reach new audiences, you can set up a campaign that finds new prospects based on interests. In Facebook, you could choose the campaign objective of traffic. The platform will find users based on your targeting that would most likely click on your ad to go to your landing page.
If your goal is donations, it would probably be more effective to target those already familiar with your organization. In marketing terms, this is known as retargeting. You can target a contact list you own or visitors to your site with Google and Facebook ads. The campaign objective of conversion would optimize the ad to focus on the contacts who are most likely to make a donation.
3. Set Up Tracking to See Clearer Performance Data
Before you start ads, make sure to properly set up tracking for each platform. This will allow you to pull data into tools such as Google Analytics. You'll have a clearer view of ad performance, such as how many users came to your website, how many email sign-ups you had, and how many donations were a result of ads.
Google Ads will need to be linked to Google Analytics. This will allow data to automatically flow into Google Analytics. You may need to customize how the platform recognizes traffic from Google Ads. Those customizations should be made to the tracking template, so that data is automatically tagged with the campaign name, ad set, and ad content. Learn more about setting up the proper tracking template.
For Facebook ads, you will see better performance if you set up the Business Manager, rather than boosting your posts, and install a Facebook pixel on your website. The pixel will track user actions on your website and be essential for building audiences. You will have more control and options for ads through the Business Manager.
In addition, if you use Google Analytics as a holistic data view of your website traffic, include custom tracking parameters when creating Facebook ads so that clicks or donation conversions can be attributed correctly. Be consistent with how you name traffic sources and campaigns so there is clean data coming in.
4. Optimize Your Landing Page
While the setup and creation of ads matters a lot, your landing page is also very important to the success of your campaign. If a user clicks on your ad and lands on a page that doesn't seem to have anything to do with the ad they just saw, they will quickly exit or not complete the intended action.
The algorithms of ad platforms consider the bounce rate, or the percentage of people who view your landing page and exit without viewing other content. The higher the bounce rate, the lower quality and relevance your ad will have, thus lowering its impressions.
Consider the user's experience of the landing page. A couple of easy things to do are to match the messaging of the landing page to the ad and include a clear click-to-action button above the fold that leads the user towards your goal.
5. Test Your Audiences and Ad Variations
One of the best aspects of digital advertising is the ability to test easily. You can test campaign objectives, audiences, ad copy, graphics, and more.
For a Google search campaign, create a minimum of two different ad copy variations in an ad set so you can gather data on what messaging resonates with the audience. Don't go overboard with variations, or else you won't be able to gather enough data for each variation. Additional things to test include ad extensions, bidding strategies, and audience targeting.
If you're running a Facebook campaign, set it up with different audiences in different ad sets so you see which performs better. Here is a sample plan for running tests.
If you need ideas for audiences, it's a good practice to start with your most engaged audience: your website visitors. If you install a Facebook pixel, you can retarget your site traffic. If that audience isn't large, you can create a look-alike audience from it. Facebook can take the characteristics of a list and find users that match characteristics so you can find a similar audience. There is also a wide range of interest and demographic targeting available to you: See Facebook's audience targeting options in this infographic.
Facebook will provide predictions of how large each audience is. When you test audiences, keep in mind that a small audience may not be well served since users will see ads too many times. Try to keep audiences over 10,000, but don't go much larger than 2 million.
If you see that an audience has a significantly lower click-through rate than others, you can turn that ad set off so the campaign focuses on the better performers.
6. Be Aware of Facebook's Policies on Social Issues and Politics Ads
Since November 4, 2020, Facebook has placed a restriction on political and social issue ads. This includes ads about elections, ballot initiatives, education, civil rights, immigration, health, and more. The company will announce when these ads will be allowed again.
For some guidance on what is allowed or not, here are examples. When the restriction is lifted and before your organization can run ads within this special category, you will need to get authorization. See our blog post on how to get authorized and navigate this policy.
Be Patient and Keep Learning
Digital advertising is simply another way to reach an audience, but that doesn't make it different from how you would typically think through your communications. Consider your audience and put yourself in their shoes to identify their interests, values, and experience. It takes time and a few steps to find the right prospects, speak to their interests, and bring them into your nonprofit community.
There are a few quick resources, the first of which is to check out the Facebook Ad Library if you ever need inspiration or want to sneak a peek at what others are doing. You can search for any company or organization's ads, live ads, and those that have been run in the special category relating to social issues, elections, and politics.
For some in-depth learning on Google Ads, listen to the Paid Search Podcast. If you ever have questions on digital advertising, there are many Facebook groups filled with knowledgeable professionals, including Digital Marketing for Nonprofits, Nonprofit Communications Professionals, and Your Thriving Nonprofit.
It takes time to set up and learn from the performance data of your campaigns. The first campaign may not be wildly successful, and it may take a few tries to get it right. Having well-formulated goals and performance indicators will help you determine what's working and when you may need to pivot to something different.
Additional Resources