If you noticed lower engagement with your nonprofit's emails or social media in the last few years, it's not just you. M+R's Benchmarks report on 2018 online metrics for nonprofits found that email fundraising revenue declined by 8 percent. Facebook posts, on average, only reached 4 percent of a nonprofit page's fans.
There are certainly ways to remedy these marketing challenges. Just take a look at Nonprofit Email Marketing: 7 Things to Try in 2020. But with algorithm changes on social media platforms, it's becoming harder and harder to reach your audience through organic channels. This is where digital advertising can help your organization.
Nonprofit digital ad budgets increased 144 percent last year. Small organizations grew their budgets for digital ads at a faster rate than medium and large organizations. Google, Facebook, Instagram, and other ad platforms open up additional channels to reach new audiences and reengage current supporters.
It's time to think beyond email and social media to reach your organizational goals. Digital advertising has never been easier. Here are some ways to get started and new things to try this year.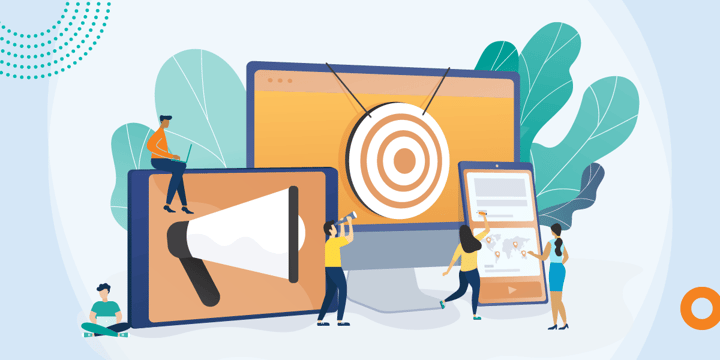 Start Using Google Ad Grants
Nonprofits are eligible to receive a $10,000 grant per month to use on Google Ads (formerly called Google Adwords). If your nonprofit is not already using this, it's basically free money to use on spreading the word about your mission.
As it's getting harder to reach people through email and social media, this is an additional channel to engage with your audience. It's often a more relevant way to reach people because they are actively searching for topics that are related to your organization.
There are certain limitations with this grant. For instance, display advertising, which consists of image-based ads, is not an option. Only text-based search ads are allowed. There are also criteria to follow to keep your account from being suspended — for example keeping an average click-through rate of at least 5 percent. All this can present a bit of a learning curve to understand how best to set up and maintain, but there are plenty of resources out there to learn from.
You can also take our Google Ad Grants Seminar Series to learn about the application process, setup, and how to optimize your campaigns.
Embrace Automation to Save Time
The good news is, platforms like Google are making it easier to set up ads using automated features. If you're new to digital advertising or have limited resources to dedicate towards it, automation tools take on some of the grunt work and decision-making. Try responsive search ads. You can input multiple headlines and descriptions and let Google figure out which combination of text performs best. This will save you time and the mental guesswork of finding the messaging that works best for your audience. It might even help you discover a new way to talk about your cause.
Another popular option is automated bidding strategies. Google will help you determine how your budget is spent, and it will do so in a way that optimizes results for the metric you choose. If you are focused on driving traffic to your website, you can set your ads to maximize clicks. Google's algorithm will determine what amount to bid or pay for each click, so that you get the most clicks you can. These strategies will save you time and effort in finding the ideal bid amount on your own. It's also great for optimizing your limited budget.
It's still important to watch campaign performance to ensure that your other ad metrics are not getting too high and goals are being met. There are a plethora of articles online about automated bidding strategies, but this one walks through each bid type and their effects on campaigns.
Add and Refresh Your Keywords
While you're probably checking keyword performance on a regular basis, the start of a new year is a good time to take a deeper look at this. You should look into what keywords did well or not in the last year and do some research into what keywords need to be added.
Apparently, between 16 and 20 percent of Google searches are new, as in, they have never been searched for before. There is an endless evolution of terms that people type into their search bars, and you want to be there when people search for something related to your organization.
A great free option for keyword research is to install a keyword finder extension on your browser such as Keywords Everywhere. Other paid options include Moz, SEMrush, and SpyFu.
Expand Your Advertising Channels
There is a growing number of advertising channels each year. How do you decide which one to use? You might already be using Google Ads, but what about Microsoft Bing search advertising? Bing now controls 36 percent of desktop searches in the U.S. And for TechSoup, we've noticed increased traffic and revenue through organic Bing searches and search advertising campaigns in recent years. Try launching search ads to reach different audiences and try the different capabilities that may help you reach your organizational goals.
The same goes for social media networks. Facebook offers so much great audience targeting, and you can get started for as little as $10 per day. But you are limiting your reach if you only use this platform. If you have specific job titles, industries, or companies that you would like to target with your message, try LinkedIn advertising.
Keep Trying New Things
There is a lot to learn about digital advertising, but you can also start with a basic setup of your Google Ad Grants account. Stay current with news on platform updates and trends within digital advertising by checking some of these sites: Search Engine Journal, Search Engine Land, WordStream's Blog, and Whole Whale's resources.
One last suggestion: Run more experiments! The beauty of digital advertising is that it's easy to tweak and try new things. Test ad copy to find what resonates most with your audiences. Test different automated bidding strategies to find which results are best.
If you're seeing a trend in your ad results, put a small budget towards a test and see how it performs. Some of the best strategies for your organization haven't been found yet, so it's up to you to experiment and find out what works.
As more nonprofits look for additional outreach channels to email and social media, digital advertising will continue to increase in 2020 and beyond. Whether you're a novice or experienced, it's easier than ever to get started or try something new to reach your audience.
Additional Resources