A donation funnel is the journey a user, or potential supporter, takes through your website with the end goal of making a donation. We refer to this as a funnel because we start with the largest group of users and slowly narrow down to those people who are qualified to reach the final goal. Not everyone who visits your website or supports your mission will end up being a donor. But everyone who is interested should be equipped with the information and ease to do so.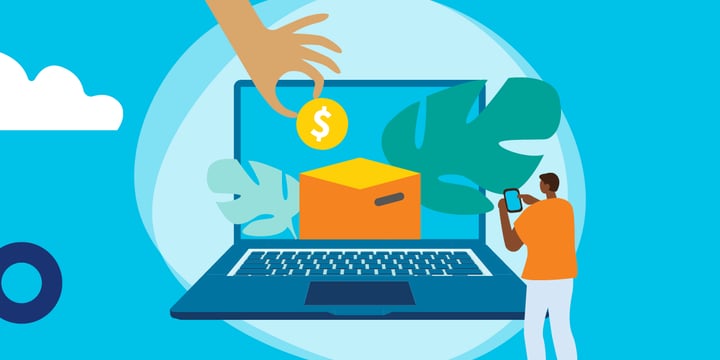 Why to Use Your Website to Drive Donations
Online donations have become increasingly popular over the past few years, growing 23 percent over the past year alone while revenue from individual online gifts grew by 19 percent. Websites and well-optimized donation platforms have served as a way for new supporters to get involved and contribute to important causes.
With the pandemic causing most large in-person events and fundraisers to be canceled, what was once a helpful, optional addition to an overall fundraising strategy has become an absolute necessity for many nonprofits. With increasing need and increasing competition, it is essential to create effective, optimized donation funnels online.
Building a donation funnel is one way successful organizations utilize their website. A well-optimized, mobile-responsive website can help to drive these online donations by
Generating awareness of your mission and organization
Driving interaction with your organization through event calendars, forms, and email subscriptions
Demonstrating your impact through success stories and statistics
Converting traffic to your donation funnel through strategically placed and written calls to action (CTAs)
How to Use Your Website to Drive Donations
The donation pipeline is only as powerful as the technology surrounding it. There are three key technologies that every organization needs to build a scalable and sustainable online donation funnel.
Content Management System (CMS)
Your website CMS is where you build, modify, maintain, and manage the content on your website. If you aren't sure which CMS your organization is using, check out this free tool, which can detect the active CMS by scanning your domain name or URL! The most scalable and secure CMS option is WordPress, but many nonprofits also use Wild Apricot, HubSpot, SquareSpace, Wix, and more. Need to migrate to a new CMS? Fill out this form for a free 15-minute consultation to see if TechSoup can support your organization in migrating or rebuilding your site.
Donor Platforms
Your donation platform should be more than the way your organization collects money. A scalable donation platform also seamlessly integrates with your website, provides valuable demographic information, and enhances your processes and validates your efforts with powerful data collection. TechSoup offers many donation platform solutions including Little Green Light and DonorPerfect.
Customer Relationship Manager (CRM)
Customer relationship management refers to all the techniques, technologies, and tools used to attract, nurture, convert, and delight contacts and constituents. This is an important piece of the donation technology stack because not all traffic is going to convert the first time someone visits your website. CRMs allow you to capture those interested in your mission with an easier request like signing up for your newsletter. Once you've received that initial buy-in from the contact, you can nurture them through your donation funnel with content, special offers, personalization, and targeted messaging. If you are interested in setting up a CRM for your organization, contact TechSoup's Marketing Services for a free consultation on which platform could be right for you. We even offer implementation and migration services!
Using these three key pieces of technology allows you to drive potential donors through the donation funnel. Equipping web visitors with the information and access they need to donate lowers the barrier to entry. The easier it is to donate — and set up a recurring donation — the more funds your organization will have to continue to carry out the great work you do. The only remaining piece will be to ensure that enough traffic is coming your way.
How to Drive Traffic to Your Website
If driving traffic to your website sounds intimidating, you might want to think about it as generating awareness, communication development, community outreach — or simply put: marketing. The more people learn about your cause and your organization, the more they will get involved, share with their friends and family, and grow the momentum of your impact exponentially.
There are many ways to raise awareness of your organization, but for now we will focus mainly on online tactics. The power of the Internet allows you to extend beyond your local community and geographic area to inspire change and action nationwide — even globally. That kind of reach can have major implications on the sustainability and growth of your organization and its funding.
Social Media
Social media is a powerful tool for meeting your constituents where they are online. Ensure that your social media accounts are set up for success by including links to your site in your bios, staying active by posting at least three times a week, and responding to interactions, mentions, and comments.
Blogging
If your organization supports a mission or cause that needs more widespread awareness, blogging is the tool for you. Writing a blog helps to answer the question of why people should care about your organization and the good work it's doing. Using search engine optimization (SEO) can help people find your website and get involved. Here's how you can improve or get started with SEO on your website. Not sure what to write about? Start with answering some frequently asked questions or highlighting a special event, fundraiser, or project.
Advertising
Did you know that Google offers eligible nonprofits up to $10,000 per month to spend on Google search ads! Google search ads can jump-start your donation funnel. These paid advertising campaigns help to show your organization at the top of Google results. However, unlike SEO, which has to build over time, Google ads are a way to start generating traffic today.
Whether your organization is in need of a new website, donation platform, customer relationship manager, or marketing strategy, the TechSoup Services team is here to help. Fill out this form for a free 15-minute marketing consultation to find out more about how we can help your organization build and grow its fundraising efforts.
Additional Resources
Top photo: Shutterstock