As COVID-19 has changed and continues to change our lives in many ways, nonprofits can play a vital role in advocating for individuals excluded by the digital divide. Together, nonprofits have a responsibility to work toward creating environments, both in the built and in the digital world, where people have a sense of belonging accessible by all.
During this pandemic, the overnight transition to online work disproportionately impacted vulnerable communities, often the ones that civil society organizations seek to serve or employ. In particular, communities of color, individuals with disabilities, senior citizens, and many others, may not have access to the Internet and devices that they need to be reached by nonprofit programs.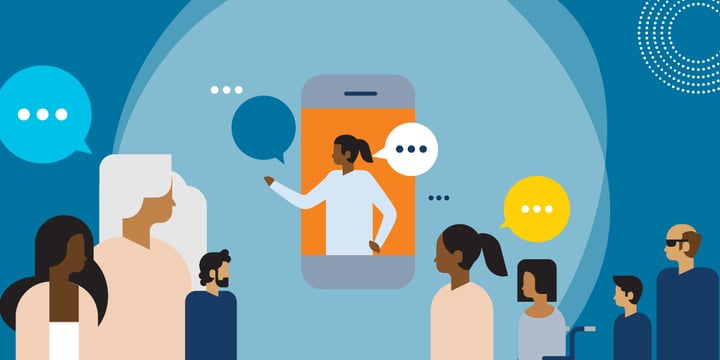 In a recent TechSoup webinar, our team at Ruh Global IMPACT explored ways that we can continue to support a distributed and diverse nonprofit community.
The discussion ranged from video conference meetings and telework best practices to tips on connecting with constituents and donors on accessible live events and videos. Use of these tools and tactics will ensure that your approach is equitable and thoughtful. One of the important themes covered was the shift toward inclusion for nonprofit communities and understanding the impact of the digital divide during the COVID-19 pandemic.
The webinar discussed the pain points of vulnerable communities impacted by the pandemic, along with these other topics:
The world has changed, with the number of persons with disabilities on the rise.
There is a growing digital divide between the people we seek to serve during the COVID-19 pandemic.
A plethora of accessible and inclusive design options and best practices exist now to help bridge the gap.
Resources for Accessible Tools
A common question from webinar participants was which platforms, hardware, and software are most likely to be accessible by people with some kind of disability.
There are many helpful tools to help organizations ensure that they are creating accessible websites, apps, online data, and virtual conferences and campaigns. Everyone, including persons with disabilities and people aging into disabilities, should be able to fully participate. Here are some websites to start with:
There are also a handful of podcasts about disability inclusion. We recommend you start with these:
Human Potential at Work — Hosted by Debra Ruh, featuring hundreds of interviews on social good, disability inclusion, accessibility, and tech for good topics
AXSChat — A Twitter chat and video interview with over 300 episodes on accessibility and disability inclusion
Connecting over Video
A question that emerged during the webinar was how to connect with people with intellectual and developmental disabilities over video. First, never underestimate the ability of someone with an intellectual or developmental disability to communicate or receive information through video. Just because a person has that type of disability does not mean that they are not technically savvy, nor does it mean an inability to comprehend through various methods.
Here are a few tips to make your video communications easier to understand and digest.
Use Plain Language
Using plain language makes it easier for people to understand your content. According to the Plain Language Action and Information Network, "Over 50 percent of U.S. adults score below an international benchmark for literacy, with roughly 20 percent scoring at the very lowest levels of literacy." Unless your content is geared towards a group that uses a specific lexicon or jargon, using plain language will maximize the possibility of your content being understood.
Use Graphics
Using graphics can emphasize or further illustrate the points being communicated. Many times, graphics can communicate ideas that speaking simply cannot. They can also add more visual interest to your content.
Use Captions
Using captions makes it easier for people who are deaf or hard of hearing to consume your content. But it also makes it easier for the general public as well. According to a recent survey conducted by Verizon Media and ad buyer Publicis Media, 92 percent of U.S. mobile consumers view videos with the sound off. That same survey indicated that 80 percent of consumers are more likely to watch an entire video when captions are available.
Keep Your Videos Concise
Due to the COVID-19 pandemic and the social issues facing our world, we are consuming more content than ever before. As an example, YouTube has indicated that there has been a 200 percent increase in video views related to working out at home since March 15, 2020. Some people have expressed a sense of content exhaustion. This does not mean you should stop making content. It does suggest that when you do make content, you should make certain that it is clear and concise.
More Help
There are so many nuances associated with accessibility and inclusion. We've compiled this accessibility checklist and resources document (Word), which shares additional information that nonprofits can use for creating accessible programs online.
As you embark on this journey, share your experiences. Share your challenges and successes with your colleagues. Network with other nonprofit organizations that may be able to offer some assistance and guidance in this area, particularly organizations that focus on people with disabilities. Do not allow the lack of financial resources to be the reason your organization is not inclusive. Help is available, starting with the resources provided in this article.
There's More Work to Be Done
The COVID-19 pandemic has shown how wide the digital divide can be. It is essential that nonprofit organizations, with support from corporations that are interested in technology for social good, work toward solutions for incorporating accessibility and inclusion for the road ahead as we embrace this new normal.
You can find the webinar presentation slides and recording here.
Read more about the digital divide on the TechSoup Blog.