As the weather warms this spring, students at Capitol Heights Elementary School, just outside Washington, D.C., will enjoy a unique new feature just outside their classroom. It's an outdoor educational garden in the shape of a dinosaur's footprint.
Working Together to Create a Garden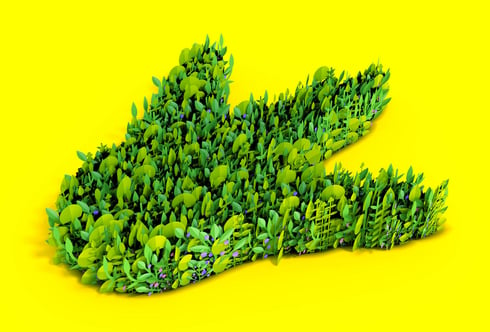 The garden — complete with a sandbox for students to dig for fossils — was built as part of the Treating and Teaching: Stormwater Stewardship program.
The program is organized by the Anacostia Watershed Society in partnership with Prince George's County Public Schools, Prince George's County Department of the Environment, and the Clean Water Partnership.
The aim of the program is to train teachers to use schoolyards as educational tools, specifically in the area of stormwater management.
To build the garden (which doubles as an outdoor classroom), Treating and Teaching also partnered with the Neighborhood Design Center (NDC). The NDC is a Baltimore nonprofit dedicated to community-engaged design and planning services in underserved neighborhoods. It worked with teachers to come up with the design, then partnered with other area design groups to complete the project.
"This coalition, through the Treating and Teaching program, is working with these schools to provide professional development for the teachers and building supervisors so they know what the facilities are and what they do, as well as how they can use them as teaching tools," explained Rachel McNamara. She's a program manager at NDC.
Utilizing AutoCAD to Design the Garden … with a Reasonable Cost
The NDC uses top-of-the-line software in order to design its community projects, but as a nonprofit, it operates on a smaller budget than its for-profit counterparts. Although there are several software programs frequently used by designers, the industry standard is AutoCAD, a computer-aided design and drafting software made by Autodesk.
However, AutoCAD is expensive, and in order to stay under budget and in line with industry protocol, NDC utilized the Autodesk Donation Program made available by TechSoup.
"We needed AutoCAD to be able to create accurate and detailed drawings so we could interact with each other productively, and with the other design groups in the coalition," McNamara said. "It is also necessary for conveying our design to the contractors that managed most of the installation and in troubleshooting issues as they arose. It helps us to evaluate options for designs and make decisions. … It allows us to present our work in a professional manner."
How the Neighborhood Design Center Benefits from TechSoup
McNamara noted that the nonprofit also receives other useful software from Microsoft and Adobe from TechSoup. All of these donated and discounted software programs allow the organization to work more efficiently with its community partners.
"The savings we get by purchasing through TechSoup allows us to keep our costs low so we can spend less time fundraising and more time helping communities," McNamara explained.
The New Garden Is Complete and Students Are Excited
One such beneficiary of this added capacity was Capitol Heights Elementary. The new garden is complete with 30 – 35 seats and a whiteboard, making it a perfect environment for experiential learning and getting some fresh air.
"Because of the weather, we haven't been able to use the garden yet, but the kids are excited," said Mauricio Salinas, the dual language coordinator at Capitol Heights Elementary who initially helped get the project off the ground. "We are planning to do many lessons outside in the spring, and also plant a butterfly garden and an herb garden. Just being outside … there's a big benefit to that."
McNamara noted that NDC and the coalition are looking forward to working with more schools in the continuing year, and that her organization will continue to utilize donation programs through TechSoup to help increase its impact in the area.
In the meantime, students at Capitol Heights Elementary will be eyeing the peculiarly shaped garden outside the window, looking forward to warmer days and classes held outside.
Additional Resources: Autodesk for Nonprofits
Photo courtesy of Anacostia Watershed Society. The volunteers were part of the Watershed Stewards Academy.