One nonprofit from Wilmington, Delaware, is making headway on the issue of educational inequality in America. TechSoup's Website Services helped transform the organization's website so that it could better serve its communities.
4th-Dimension Leaders (4DL) has a small but dedicated team whose mission is to train, develop, and support leaders in education. Specifically, it aims to lift up those who serve socioeconomically disadvantaged schools in need of high-quality education and teachers.
4DL does so mainly through two initiatives: Lead For Delaware and the Equity Practitioner Program (EPP). Both programs train and equip the next generation of leaders to educate and mentor students through a series of certification programs and collective learning experiences.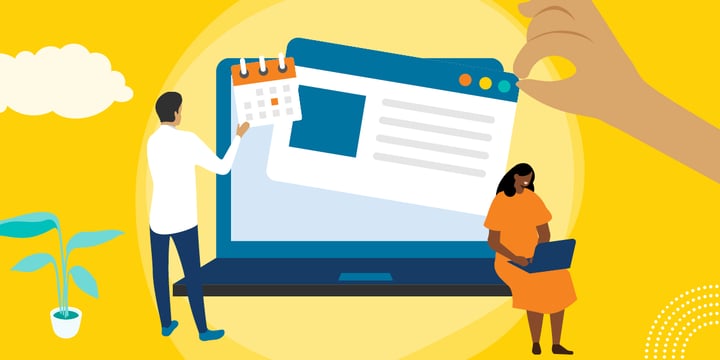 Time for a Website Makeover
A great nonprofit website can serve multiple purposes, from showcasing an organization's mission to streamlining how beneficiaries can access services it offers. 4DL needed its website not only to highlight its mission but also to serve as a training portal for its members. However, its website at the time failed to fulfill those needs.
Krista Vandetty, manager of operations at 4DL, noted, "We had one website that wasn't that great. Looking at the website, I wasn't even 100 percent sure what our organization did. There were [also a] lot of links that [went] all over the place."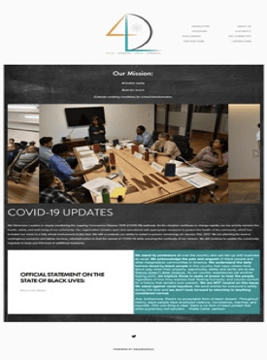 A Before picture of 4DL's home page. Note the lack of a donate button and a lot of distracting text.
Realizing that their organization needed a new website, Krista and Angela Harvey-Bowen, executive director at 4DL, connected with the Website Services team through a Website Wellness Consultation.
Following an initial consultation, 4DL was presented with three different custom websites, each with a distinct design and layout. After reviewing and choosing a design, they met the team that would be building and designing their new website.
The Process
4DL and a Website Services team met weekly to check in on the progress of the website and to alter steps as needed. While the team built the website, 4DL was heavily involved.
The website services team was awesome, so helpful, and always had a positive attitude. [Our program manager] had no problem rescheduling, getting on a call, or making sure that we had all the info that we needed. Every time we got off a phone call/Zoom call, within a half hour, I had a synopsis of everything we discussed, everything was so organized, and she was on top of everything.
— Krista Vandetty
During the process, 4DL received advice on optimizing its website as a nonprofit organization. Its former website didn't have a donate page or donate button, so the Website Services team helped 4DL decide where to put a donate button on its website. 4DL is now implementing a blog to increase its SEO and to better inform website visitors of its mission.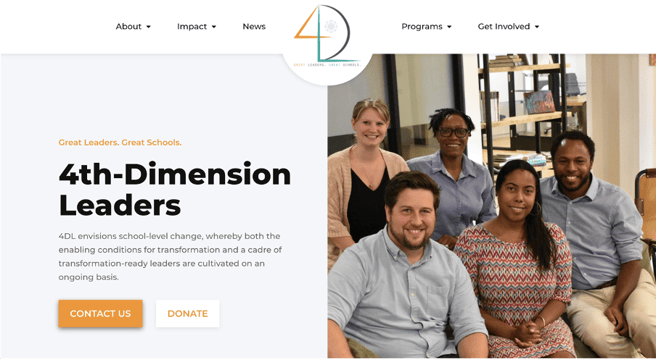 An After picture of 4DL's home page. Notice the donate button and a clearly stated mission.
4DL's website presented a few unique obstacles because it accommodates a portal for members to log in with varying payment plans and access. Previously, members were confused about where and how to log in and operate their account, so 4DL staff had to help members access their accounts often. This wasted staff time and frustrated 4DL's members.
TechSoup Website Services helped improve the user experience so 4DL staff members have fewer technical questions to respond to and more time to focus on their mission.
Seeing the Benefits
The website design process can range anywhere from three to six months, depending on an organization's needs. The process from beginning to end took a little more than six months for 4DL. When the new site launched in February, 4DL immediately began to see the rewards of an optimized and professional website.
The biggest improvement? Krista noticed that the website was finally targeting the right audience. "We've had more people applying to the new job position we just posted that seem to align with our mission, where it wasn't like that in the past. I think that people being able to go on our website and get a clear understanding of our mission has helped."
After working with TechSoup's Website Services, 4DL changed the way it showcases its mission and streamlined its membership operations. Its staff also gained new skills along the way. Whether it was learning to incorporate a donate button or to plan for future content, 4DL learned crucial strategies that will help it to further succeed in the future — on its own.
[We were drawn to TechSoup's Website Services] because we try to work with organizations that work often with nonprofit organizations. We just get a different structure than those that work with corporate companies. We try to focus on working with people that know our space.
Whether your organization is in need of a completely new website or just minor changes, TechSoup's Website Services can help you to optimize your website. Take the first step by speaking with one of our expert consultants.
Additional Resources
Top photo: Shutterstock