The use of technology can significantly increase our capacity to do good across regions, cultures, and time zones. However, working collaboratively with stakeholders from different parts of the world presents a number of challenges.
But one North Carolina–based organization, Africa Exchange, is building an international coalition to solve local issues in East Africa. Since 1997, it has supported a growing number of programs in order to best support the populations it serves in East Africa, specifically in Kenya. Over the years, the organization has worked alongside community members to support developmental projects in the region.
With each initiative, Africa Exchange identifies a particular area of need as expressed by a target community and works with community members to develop solutions to the problem. Solutions range from tackling access to critical nutritional resources to a recent initiative to encourage self-help groups to "reduce vulnerability and enhance resilience" within communities.
Pictured above, members of the Masai community in the Talek region of Masai Mara, Kenya, cross a suspended bridge that was financed and constructed by Africa Exchange. It was built in 2014 as part of the Development Initiatives program in partnership with Bridging The Gap Africa. The bridge allows children and community members to go to school, the health center, and the market during the rainy season, when the Talek river floods and cuts off access.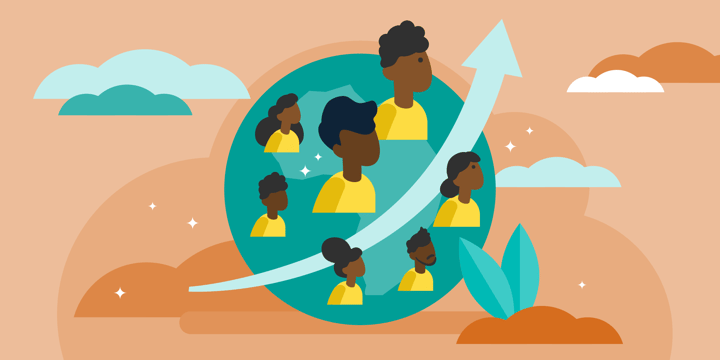 Africa Exchange builds upon cross-continental collaboration to achieve results. Sam Harrell is the CEO of Africa Exchange After 20 years of living in Kenya, he now splits his time between Kenya and the U.S. to support coordination between parties in both countries. Through the sharing of ideas and resources, he explains, the organization can "promote mutuality in relationships, resilience in communities, and the sustainability of natural environments" in the communities it serves.
Identifying and Supporting Marginalized Communities
Africa Exchange strives to solve the most pressing issues facing the most marginalized within society, regardless of national or regional boundary. It builds upon available local assets combined with occasional external resources through a collaborative process for the benefit of the vulnerable within each community. To create a solid foundation for change, the group works closely with young children, many under the age of 6, to support their development into healthy young people.
One of Africa Exchange's most prominent programs is called Change for Children. This program is structured around 12 Integrated Child Development Centers (ICDCs) established by Africa Exchange throughout Kenya. The choice of ICDC locations relied on data from the Socio-Economic Atlas of Kenya and took in the most resource-challenged districts within Kenya's nine provinces.
Africa Exchange's work at each ICDC unit focuses on the United Nations Millennium Development Goal 4, which seeks to reduce child mortality. Through initiatives targeting clean water and sanitation, nutrition, deworming, malaria prevention, and safe access to early childhood education, Africa Exchange has been able to support over 1,000 preschool children annually over the past 10 years. Additionally, through its Scholars project, a number of scholarship opportunities are provided for successful primary school leavers to attain full secondary school education.
Providing Essential Resources Requires Critical Technology
Maintaining international programs adds an extra layer of complexity to the nonprofit's technology needs. "Since we do much correspondence internationally, including sensitive communication, money transfers, etc.," Harrell says, "we knew we needed to safeguard our material and data from corruption, particularly web-based transactions."
In 2018, Africa Exchange began using Norton Security Deluxe through the Symantec Security and Antivirus Donation Program for Nonprofits to ensure security on phones and computers used at the organization and to protect its most sensitive data. With this technology, Harrell and his team can feel more secure about their international communication and data transfers. "Using Norton has enabled us to be less anxious about the safety of our web presence and receive clear information about threats," Harrell says.
Building upon Success to Tackle New Challenges
Moving forward, Harrell is excited to use the savings on technology in order to focus on expanding the nonprofit's programs and carry out its mission. Currently, the organization is working on a comprehensive environmental impact program to address some of the effects of climate change. The work done under the program will be tied in with existing efforts in order to offset ways that changes in climate impact existing issues.
Success with this and existing projects, Harrell notes, is greatly supported through the technology tools they receive from TechSoup, including Norton Security, Microsoft Office, and Adobe Acrobat. These tools have enabled "promotion with confidence and efficiency" within the organization and have allowed Harrell and his team to focus on providing critical resources to the communities they serve.
"Affordable office solutions enable us to use less donor money on administrative tasks and components and direct more to field projects and people in need," Harrell says. This is crucial time saved for Africa Exchange, as every second counts when helping children get the critical resources they need.
Additional Resources: Nonprofit Security