In the U.S. alone, more than 35 million people experienced hunger in 2019. As a result of the COVID-19 pandemic, an additional 42 million people, including 13 million children, could be added to that list.
In 2020, food banks across the country distributed 2 billion meals to those facing hunger, placing immense pressure on food provision services to meet the rising demand. In order to keep up with the scale of food insecurity, organizations need more efficient systems to manage their guests and inventory, ensure compliance and streamline workflows. This is where Link2Feed can help.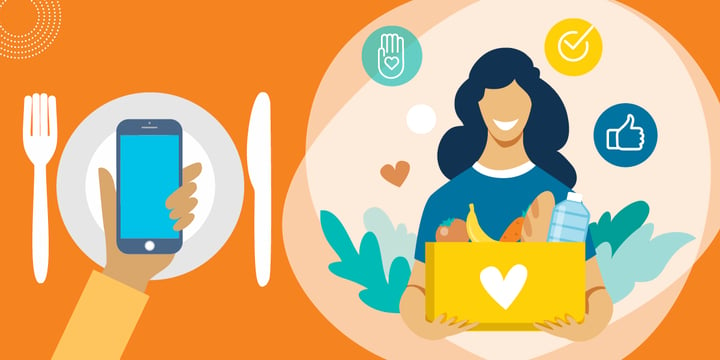 Link2Feed helps food banks and other organizations increase their impact by providing access to great technology. The various modules of its software are designed to solve common problems. The modules work together to create a complete management solution that is tailored to the needs of food banks and pantries.
One solution offered by Link2Feed is a volunteer management module, which takes care of recruitment, onboarding, and scheduling. It also has a solution for the client enrollment side, allowing service users to create profiles and book services themselves. Organizations can also use Link2Feed to keep track of food donations and inventory, reduce waste, export reports to make grantmaking easier, and more.
Link2Feed has been a lifesaver for many nonprofits fighting food insecurity worldwide. We spoke to three such organizations about how accessing Link2Feed has helped them to save time and serve their communities more effectively.
Wood Buffalo Food Bank, Fort McMurray, Alberta
The Wood Buffalo Food Bank (WBFB) has been providing people in need in Fort McMurray, Alberta, Canada, and the surrounding area with nutritious food since 1983. Its mission is to "provide [the Wood Buffalo region] with education and tools to access safe and nutritious food," says Dan Edwards, executive director of WBFB. A key challenge for WBFB is the size of the area it serves. Regardless, it manages to deliver around 6,000 hampers to those in need across the Wood Buffalo area.
WBFB began using Link2Feed in 2015. Prior to this, it used a patchwork of different systems, none of which were designed for use by food banks. Edwards tells us, "They were each problematic in their own way and usually led to multiple systems being required to run efficiently." Problems faced included difficulty outputting statistics, trouble filtering data, and not having any automatic scheduling features.
By being designed specifically for food banks, Link2Feed immediately solved some issues for WBFB. Tasks that previously took hours or days were now a simple matter of setting up a link or automating a process. One great example Edwards gave is the annual hunger count, which is usually a dayslong process for the WBFB team. Link2Feed is set up to process data like the number of hungry people in an area, so the task now takes less than an hour. The system is also cloud-based, enabling staff and clients to log in from anywhere.
In the wake of the Fort McMurray wildfire in 2016, the Link2Feed team offered great support to WBFB. Edwards tells us that they reached out immediately to see how they could help, and that they took all unnecessary data out of the system until WBFB was able to resume normal operations again.
Wood Buffalo Food Bank has saved a wealth of time and funds by using Link2Feed. Edwards commends them for designing a platform around the needs of food banks, constantly evolving and improving based on feedback from individual organizations.
Just Food, Douglas County, Kansas
Serving around 20,000 individuals every year, Just Food aims to end hunger in its local community of Douglas County, Kansas. It does this "by increasing access to healthy foods, removing barriers to health and well-being, and cultivating self-sufficiency," according to client services manager Jessica Cooney and director of finance and development Brett Salsbury.
Just Food operates as both a food bank and a food pantry, collecting would-be wasted food and redistributing it to those at risk of hunger in Douglas County. It does this directly to around 150 to 300 households a day, as well as working with community partners, including universities, schools, and a healthcare clinic.
Cooney and Salsbury tell us that Just Food began using Link2Feed in January 2020, mere months before the start of the COVID-19 pandemic. Previously, an in-house database was used for all essential operations, which crashed and became unreliable when they tried to move to the cloud. They were concerned about losing vital data in the switch, an issue that Link2Feed's cloud-based system addressed. The platform's client management system, stored in the cloud, allowed Just Food's partner organizations to use it too, saving time and ensuring that data was not lost in translation.
At the onset of the pandemic, Just Food was able to use Link2Feed's capabilities to operate smoothly with the necessary transitions. Cooney and Salsbury tell us that Link2Feed "allowed us to focus more on our task of ensuring that everyone who needed food was able to be served."
Little training is needed to use Link2Feed, which is ideal for quickly showing new volunteers how to use it. The inventory mode allows Just Food to easily track how much food is being distributed, as well as how much is being wasted. All of this can help them to build a more streamlined service, feeding more people with as little waste as possible.
Feeding Washington
Feeding Washington partners with food banks, food pantries, and meal programs across the state to ensure that organizations have the right resources to run effectively. It also advocates on a regional and state level for policies that reduce the number of people facing hunger. Amelia Paul, hunger relief insights manager at Feeding Washington, states its mission as "solving hunger statewide."
Its advocacy work gets results. Paul notes that this past season saw "record investment from our state legislature in the hunger relief system," These changes, she says, will help organizations to feed more people, increase the amount of fresh produce coming from local growers, and offer more culturally relevant food options.
As part of its support to organizations in Washington fighting food insecurity, Feeding Washington provides Link2Feed to its partners free of charge. Alongside this, Paul tells us that it offers training on how to use the platform and offers support on an ongoing basis.
It was data collection issues that originally led the organization to begin offering the Link2Feed platform to its partners. When each agency is responsible for its own data collection, they each use different systems and platforms. This can make it extremely difficult to aggregate the data in a way that gives meaningful insights into hunger statewide.
When multiple organizations use Link2Feed, data on food insecurity in each of those local areas can be presented in one place, offering fresh information on food insecurity across Washington. Good data helps to fuel better advocacy. Paul explains that this can "help move the needle toward food security and improved nutrition for people in need," without introducing new barriers to those in need of services.
Link2Feed has a wealth of benefits for Feeding Washington and its partners. Paul tells us that food banks and pantries can track all of their programs in one place using the platform, ensuring that all users receive correct and up-to-date information. The platform offers easy compliance with privacy regulations while decreasing paper waste by operating in the cloud. Food bank clients can also select the language they would like to use the app in, which further increases accessibility to food programs in Washington State.
Feeding Washington has boarded eight agencies to Link2Feed across 12 sites, with an additional four sites working through the implementation process. This will help them to feed more people across the state, while gathering vital data to help them fight for food security on a legislative level.
A Powerful Tool in the Fight Against Food Insecurity
These three organizations have seen huge benefits from using Link2Feed to manage their food banks and pantries. Its easy-to-use solutions, cloud-based nature, and effective data collection make it a great and tailor-made solution for nonprofits fighting food insecurity. Hundreds of organizations in the U.S. and Canada successfully use Link2Feed to manage their food banks. For more information on Link2Feed's solutions and pricing, take a look at its website.
Nonprofit leaders in the food security sector are gathering on Quad, TechSoup's new peer-to-peer community platform. It's an exciting opportunity to connect with others, share challenges and solutions, and discover and compare great tools like Link2Feed. You'll also find resources such as guides, reports, and product comparisons to help you make more informed decisions for your organization. By joining Quad, you'll get unique access to reduced admin fees and dedicated support, and you'll become part of an exciting community of nonprofit leaders.
Also Read
Top photo: Shutterstock