Going viral is the elusive goal of many marketing and outreach campaigns.
A campaign that takes off can mean more than just a growing number of social media followers — it can mean increased support for your cause and substantial donation dollars.
What It Takes to Go Viral
Sociologist Mark Granovetter (PDF) believes that people are motivated to act based on one of two things: their beliefs or their thresholds.
Beliefs are, of course, internally held positions people have in their heads or their hearts. In the case of nonprofits, beliefs would involve a charity or cause that people are particularly passionate about. A threshold, on the other hand, is an external influence — such as peer pressure — that can drive people to act in a particular way.
Athar Abidi, social media manager at the British Heart Foundation, agrees with this theory of collective behavior. "To go viral, you need to come up with an idea where a large enough number of people are motivated by their belief in your cause or campaign to reach other people's thresholds," he said.
For example, you want people to say, "Twenty of my friends have done this, so now I'm going to do it too — regardless of whether or not I am passionate about this cause."
A great example of this theory in action is the now-famous ALS Ice Bucket Challenge. It started with a small number of people who had been diagnosed with or personally affected by ALS (also known as Lou Gehrig's disease). They recorded themselves pouring a bucket of ice water over their heads in the name of ALS research. They would then challenge three or more people via social media to do the same.
Once the challenge caught the attention of national sports and media figures, the broader awareness sparked campaign participation in the thousands and raised over $115 million for the ALS Association.
The passion of people within the ALS community combined with the element of competition and the high reach and low barrier to entry of social media. And what started as a small campaign soon became a viral sensation.
The British Heart Foundation's Big Stitch Competition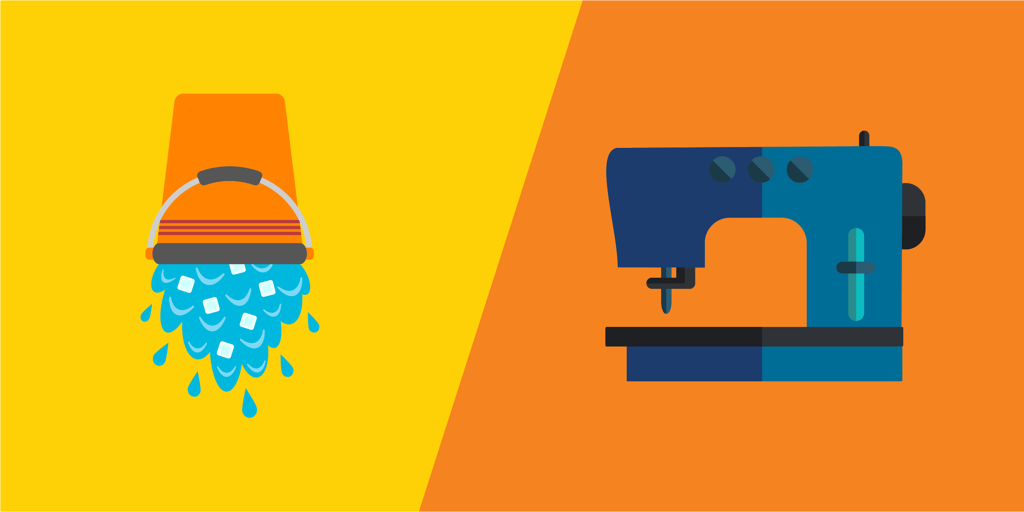 Following these principles, the British Heart Foundation designed its own social campaign that sought to drive more foot traffic and sales for its local charity retail operations.
Specifically, staff members wanted to jump on the upcycling trend — where people alter old items to give them a new lease on life. Additionally, Athar noted that they "wanted to harness user-generated content (UGC) and use it to showcase the quality of stock in our shops."
Last July, the organization launched The Big Stitch competition, asking their supporters to buy an item from one of their stores (where all proceeds went to fight heart disease) and upcycle it. To be entered in the competition, people had to share before and after photos of the item they upcycled on social media with the hashtag #TheBigStitch for a chance to win a night out in the West End of London with a high street fashion influencer.
Using Stackla's user-generated content platform, staffers were able to easily create, manage, track, and display the competition photos across their campaign website.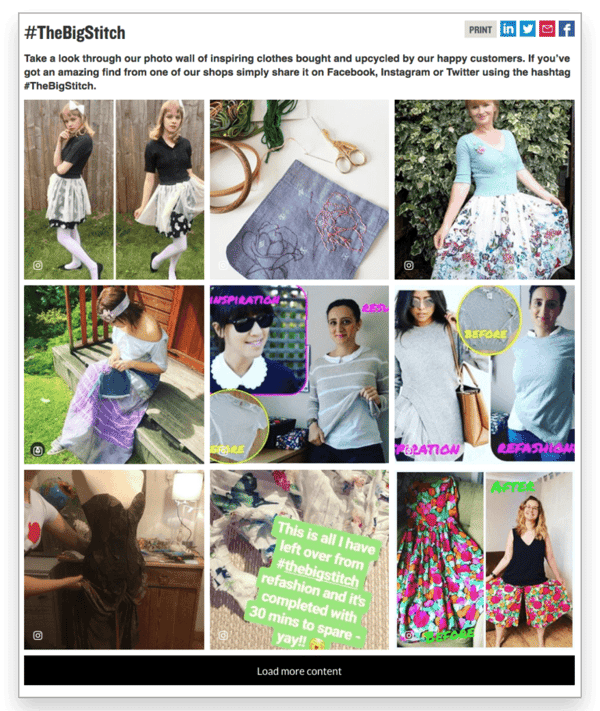 By the end of the month, the nonprofit received over 500 hashtag mentions, 153 competition entries, and high engagement rates on its UGC photo wall. And there was a noticeable uptick in foot traffic and sales in its stores.
With a limited budget, the charity's staff were able to effectively harness niche influencers and UGC to exceed campaign goals while broadening awareness and engagement.
"User-generated content helps us draw supporters into a deep, trusted relationship," Athar said. "We get them involved and engaged by sharing their content in a two-way conversation."
Now that it's been able to prove how successful this competition can be, the British Heart Foundation will be rolling out an even bigger and better Big Stitch campaign next year.
Start Sharing Stories Today
Is your nonprofit is looking to launch a social media campaign with the potential to go viral? If so, considering a comprehensive user-generated content platform to help manage it is a good place to start.
Check out our Stackla for Good page to learn more about this leading UGC platform. Eligible organizations can receive a discounted rate by using the promo code "Techsoup17" during the signup process.
Additional Resources: Social Media for Nonprofits