Slack is a channel-based messaging platform designed for the workplace. It aims to make collaboration easier, allowing your team to message each other in an organized and intuitive manner. As well as decreasing your reliance on email, Slack's integrations with video conferencing tools, file-sharing apps and more enable you to make it your central hub of productivity.
If you've been reading our blog for a while, you might remember our piece on getting started with Slack. If you're looking for a little more detail on how nonprofits can make the most of Slack's great features, then you've come to the right place. Read on to discover how nonprofit organizations have made the most of Slack, from reacji (emotion reactions, such as a thumbs up) and video calls to cross-organization collaboration.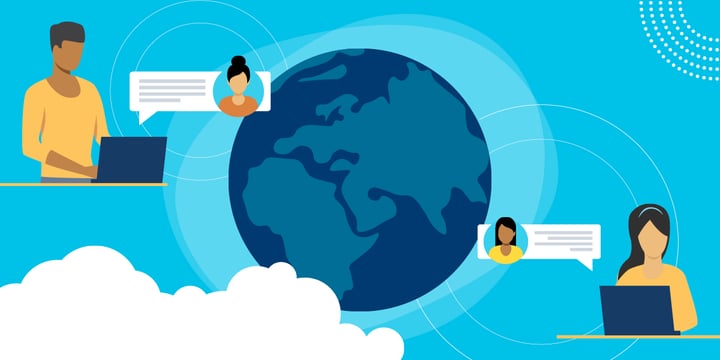 Communication
Slack is dedicated to effective, streamlined, and simplified communication. Channels allow you to organize your discussions, ensuring that everyone is involved in all and only the conversations that they need to be. Within channels, you can use reacji, threads, and @mentions to get your point across and make collaboration more fun. You can also share files and jump straight onto video calls using Slack's great range of integrations. You can customize your status and notifications to ensure that you maintain a healthy work-life balance even when working from home.
Here at TechSoup, we use Slack channels for functional purposes such as organizing meetings, sharing information, and troubleshooting IT problems. We have dedicated channels for each team, a #general channel for updates relevant to everyone, and a #help channel, where our IT team can assist with any technology issues. However, we also like to keep our team connected using channels just for fun. On our #doggos channel, for example, employees can share photos of their pets with one another. This helps to keep team morale up, and maintain connections when we are working apart.
Medic is a global nonprofit building brilliant software for healthcare workers. Their workforce operates from around the world, and they've used Slack to streamline their communication since 2013. Their team works asynchronously across time zones, using Slack's collaboration tools to complete projects.
"Effective internal communication is incredibly important to keep our team feeling connected with one another, and to our success as an organization," says Alix Emden, operations lead at Medic. "On Slack, we send messages to teammates, coordinate projects in channels, connect on work-related and non-work-related topics (#cooking-with-medic has been very active recently). We use statuses to communicate updates and availability. We celebrate public channels as they allow us to cultivate a culture of transparency and openness in line with our values despite geographical distances."
Emden adds that, as a global organization, they have a need to feel connected across many countries that is all the more important. Features like those listed above all help to bring about a greater sense of community and a culture of clear communication in, what's for many, an entirely digital workplace.
Volunteer Management
Many nonprofits need to manage communication with both paid staff and volunteers. Coordinating volunteers over email can be confusing and inefficient, with vital information getting easily lost. With Slack, you can create a Slack Connect channel in order to communicate with volunteers. They will not have access to any other channels in your organization's Slack, but you'll be able to easily share information, files, notes, and more using Slack's great features. Managing volunteers through Slack allows you to keep all of your work-related communications in one place, as well as ensuring that staff are on hand to answer volunteers' questions in real time.
Invisible Hands is a nonprofit delivering essential items to those particularly vulnerable to COVID-19. By coordinating their volunteers using Slack, they are able to keep instructions easily accessible and centrally located. Slack acts as a central communication hub for both staff and volunteers, enabling them to seamlessly ensure the smooth running of their deliveries across New York, New Jersey, and Pennsylvania.
"Slack was absolutely integral to our success as a startup crisis response and nonprofit. As we recruited thousands of volunteers, Slack was a godsend for us, allowing us to seamlessly communicate information in real time, relay requests from clients, and build teams from the ground up," says Liam Elkind, co-founder and CEO at Invisible Hands.
For organizations that rely on volunteers to chase after their mission, Slack is a great way of sharing information, rotas, and other resources through a reliable and easily accessible platform.
Partnership Collaboration
Slack Connect is a great new feature that opens up a world of possibilities for cross-organization collaboration. Up to 20 organizations can collaborate in a single channel, enabling them to work effectively with partners and vendors without ever leaving their organization's workspace. Whether you are organizing an event, running a joint fundraising campaign, or establishing a long-term partnership with another organization, Slack Connect allows for effective and seamless communication.
By combining Slack Connect with Slack's other amazing features, you can create a space for sharing important files or plans with partner organizations, troubleshoot at a moment's notice, and jump on a video call straight from the Slack platform.
Streamline Processes
Slack integrates seamlessly with email, file sharing, video conferencing, and a huge range of other apps. By making full use of these, you can use Slack as your central hub for communication and collaboration. This is a great way to avoid information getting lost in email threads, with searchable channels and threads making it easy to find what you need.
Channels are also a great way of gathering feedback and questions from employees, partners, and volunteers, with the channel available as a reference going forward. Pinning files and documents in a channel makes them easy to access, even doubling as an easy-to-use file-sharing platform without having to leave the Slack interface.
Integrate, Communicate, and Collaborate
Slack is fast becoming an all-in-one base for working collaboratively at your organization. Using its intuitive channel-based messaging system as a starting point, you can manage volunteers, work with partner organizations, and streamline your work, all from the Slack platform. You can work seamlessly across teams and time zones, managing projects and sharing resources at the touch of a button.
Slack is free for nonprofit organizations with fewer than 250 employees, but those with more than 250 can still receive significant discounts. It is an excellent, sophisticated tool for communicating and collaborating with your team.
Additional Resources
Top photo: Shutterstock