In one way or another, all nonprofits have been faced with the challenge of adapting their marketing technology over the past few years. TechSoup, in collaboration with Tapp Network, sought to discover just how nonprofits were doing this in 2020 by conducting the 2020-2021 Nonprofit Digital Marketing Benchmark Study and Report. Now, almost two years later, we revisited the same topics to see how technology and digital tactics are being used in the industry.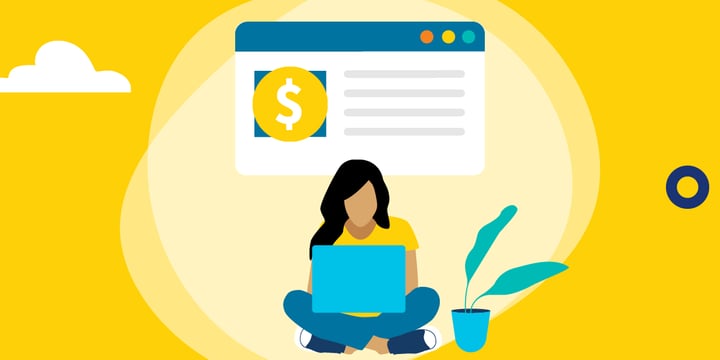 Identifying and analyzing trends across the industry is a powerful way to see where improvements can be made. We've broken down the metrics that nonprofits use to evaluate their digital marketing efforts, from paid ads and email to social media and content. In this installment, we will examine some important takeaways about nonprofit paid advertising from the 2022-2023 report.
In the 2022-2023 Nonprofit Digital Marketing Benchmark report, 61 percent of our respondents say they don't use any form of paid advertising to promote their company or organization, while 15 percent say they want to start doing so over the next 12 months. If you're still one of the nonprofits that are not using paid advertising, 2023 might be the year to start!
What Is Paid Advertising?
Paid advertising is a marketing tactic in which organizations spend money to increase exposure and engagement in their target audience. There are many types of digital paid advertising, but these are common examples:
Paid search: Text-based advertising in which advertisers bid against each other for the same search keyword to appear at the top of a Google or Bing search. You might also know these as Google Ads (previously Google Adwords) or Microsoft Ads (previously Bing Ads).
Display advertising: Visual ads that appear as banners, boxes, images with text, or animations. These can be seen across websites, at the bottom of YouTube videos, and more.
Social media advertising: These are similar to display ads, but they run on social media platforms.
Retargeting: This method uses third-party data to position ads in front of someone who has already interacted with the organization. When you search for a product on a retail site, and then continually see ads for that product in other online spaces, that retail site is using retargeting tactics.
For nonprofit organizations, paid ads can help to generate awareness of your cause and mission, generate web traffic, increase donations, attract program participants, attract event attendees, and more.
Common Hesitations and How to Overcome Them
For organizations that are unfamiliar with marketing through paid ads, you might have some hesitations about how to go about it. Here are a few of the common hesitations expressed by nonprofits in our research, and some ways to tackle them.
I Don't Know Where to Start
In the benchmark study, we found that 15 percent of nonprofits state that they are still planning out how to use ads or don't know where to start. While the best way to learn is by trial and error, doing so with limited resources available can be challenging. Here are four steps to take to get your first paid ad running.
Decide on your goal: Defining what success looks like to you is important. When putting funding behind a marketing tactic, you want to be able to say, "If I spend $X, I want to see Y." Your goal might be to generate 10 new ticket sales for an upcoming gala, increase web traffic by 20 percent in 30 days, or get 50 new followers on Instagram. Be as specific as you can both in quantity and timeline while being realistic.
Pick your platform: The best place to run ads depends on your goal. If you want more social media followers, try running a social media ad. If you want to drive event sign-ups, a display ad on LinkedIn could be the best route. If you want to increase web traffic and awareness, try a Google ad. You should align the platform with where you want the user to end up.
Determine your budget: Setting budgets can be tricky for nonprofits. Unlike for-profit companies, which can directly align dollars spent with dollars earned, nonprofits will have a harder time defining success for initiatives like "generating awareness." From our research, we found that three out of four nonprofit organizations that reported using paid ads spend at least $500 per month. You can always start small while you are testing and increase as you feel comfortable and are seeing results. Nonprofits can also apply for Google Ad Grants to get $10,000 a month to spend on Google Ads at no cost to your organization.
Test and adjust: You'll need to allow for some trial and error. Give it your best shot, make minor adjustments and improvements along the way, and continue to home in on the messaging, timing, location, and frequency of your ads in reaching your goals.
I Don't Know How to Make Them
In the benchmark report, 19 percent of respondents said they do not use advertising in their strategies because they don't know how to. Luckily, there are countless resources online dedicated to teaching how to get started across all the major advertising platforms.
Facebook is another great platform to learn and grow your advertising. Many nonprofit organizations already use Facebook for community building and fundraising. Deploying an ad strategy on a platform you have already found success in can help you to find similar success in advertising since you have already proven that your audience is there. TechSoup has a series of courses to teach you how to start using Facebook ads in your organization.
I Tried but Was Unsuccessful
The portion of the respondents from our study who have tried paid ads but were unsuccessful was 18 percent. It's important to contextualize failed attempts at paid advertising and to find ways of learning from what went wrong. A failed ad campaign can be a result of ineffective keywords, design, or not getting in front of the right audience.
If you are unsure if your ads were unsuccessful or if you are looking for how to improve your advertising strategy, the TechSoup Digital Marketing experts can support you in strategizing, launching, and managing a paid advertising campaign for your organization.
Download the Full Report
Our 2022-2023 Digital Marketing Benchmark Report for Nonprofits breaks down these findings for advertising and the core pillars of marketing for nonprofits: email marketing, marketing technology, social media marketing, websites, and content marketing.
About the Author
Julie Vidal is a marketing assistant who specializes in content creation and bookkeeping. With her organization and creative skills, she handles accounts effectively to meet goal-driven results. She resides in Manila and enjoys hiking and swimming.
Additional Resources
Top photo: Shutterstock