To take your nonprofit digital marketing strategy to the next level, you must understand the latest technology and tools available to you. TechSoup, in partnership with Tapp Network, a digital marketing and technology agency, created the 2022-2023 Nonprofit Digital Marketing Benchmark Survey to help you understand how nonprofits use digital marketing and provide helpful insights and recommendations for creating a successful digital marketing strategy.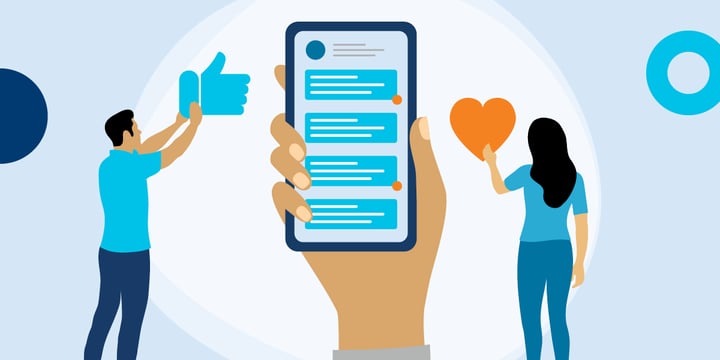 Based on data collected from 110 survey respondents of small to medium-sized organizations in the United States, we created the Benchmark Report to help nonprofits create a competitive digital marketing strategy that effectively meets their goals. Get a copy of the 2022-2023 report today.
Social media, the focus in this installment of our findings, is an increasingly effective way for nonprofits to fundraise and communicate in their community. Using data we have collected between June 2022 and September 2022, let's take a look at some key findings about social media use by nonprofits.
Social Media for Nonprofits
Social media provides nonprofits with a cost-effective way to reach their goals, engage with their audience, and gain exposure. With a social media strategy, nonprofits can create a loyal and active online community of advocates, donors, and volunteers that cares about their mission. Below, we'll answer some common questions about nonprofit social media, including best practices to make the most of your online presence.
What Social Media Platform Should I Use?
There are many different social media platforms available today, so which ones should you focus on? You don't have to use every platform to achieve success. There are strengths and weaknesses to each.
Our data shows that Facebook, Instagram, and LinkedIn are among the top three platforms used by nonprofits at 84 percent, 62 percent, and 49 percent, respectively. The best social media platforms for nonprofits depend on your specific goals, the types of content you want to share, and the audience you wish to reach. Let's break down each social media platform to gain a better understanding of which platforms are best for your nonprofit.
Facebook: If your goal is to expand your community and gain donors, Facebook is a good choice. It is a space to get people talking about your organization and sharing your content, plus it has built-in fundraising tools.
Instagram: If you are trying to reach a younger audience, Instagram is the platform for your nonprofit. Instagram is driven by visual content, so you should focus on creating captivating infographics, pictures, and videos.
LinkedIn: Nonprofits looking to gain future employees, volunteers, or donations from professionals or other organizations should use LinkedIn. LinkedIn is a great platform to build a trusted, engaged community.
Twitter: To spread awareness or gain new followers, use Twitter. Twitter shares short-form content, making it easy for people to scan your content as they scroll. In light of the current uncertainty around Twitter, consider using Instagram or TikTok to fulfill these goals.
TikTok: TikTok can be used to educate new and existing followers about your nonprofit. Short-form videos can be used to share your mission and connect with your audience on a personal level. This is also a great place to reach a younger audience.
How Often Should I Post?
Determining how often you should post on social media can be difficult. Based on our survey, 39 percent of nonprofits post content three to five times a week, 31 percent post one or two times a week, and 22 percent one or two times a month.
It takes some trial and error to work out a sustainable posting cadence. Try out different schedules each month and monitor what works best for your audience. Schedule posts based on your audience's social media usage behavior to give them a higher chance of seeing and engaging with your social media posts. Use social media management tools such as Agorapulse and Hootsuite to help you schedule and report social media usage.
No matter how often you post, don't forget to diversify your content! Combine videos, infographics, or blog posts, for example, to avoid being repetitive.
Should I Use Facebook Fundraising?
With multiple social media platforms at your fingertips, how are you using social media to raise funds? Our survey states 56 percent of nonprofits are not using Facebook Fundraising. Of the 44 percent that do fundraise using Facebook, 90 percent of them reported fundraising efforts to be somewhat to extremely successful.
Facebook Fundraising is a donation tool where users can create fundraisers to support nonprofits of their choice. It allows your supporters to share their interest in your nonprofit with their friends and family and provides your community with an opportunity to state why your organization is important to them, which in turn can help your nonprofit reach new donors.
Best Practices for Nonprofit Social Media
1. Build a Strong Brand Identity
Maintain continuity across social media posts and platforms. A coherent social media strategy helps audiences identify your brand, no matter what platform they find you on. The best way to accomplish this is to ensure you have a solid, recognizable, and trustworthy brand, including a color scheme and consistent tone of voice.
2. Use Calls to Action (CTAs)
Calls to action refer to the next step, or action, you want your audience to take. Examples within your social post copy can include "Click here to donate" or "Sign up now." CTAs aim to encourage audience members to take the next step in supporting or interacting with your nonprofit.
Although not all social media platforms offer donation buttons, there are other tools you can use to drive people to your donation pages. Link in bio tools, such as Linktree, can be used on platforms like Instagram and TikTok to drive traffic to customizable links.
There should be a specific goal and CTA for each post. What action do you want people to take? Some suggested actions include: get involved, donate, sign up to volunteer, or learn more.
3. Create a Content Calendar
A content calendar is an outline, or schedule, of upcoming social media posts organized by date. Creating a content calendar ensures that your nonprofit's social media content supports your strategy, reaches your goals, and engages your community. It also helps you to plan ahead and create a more cohesive social media marketing plan.
Assemble your content calendar using automated social media tools such as Agorapulse, which have many benefits. Tools like this integrate all of your social media accounts together, reduce administrative time, and ensure that communication stays consistent.
Download the 2022-2023 Nonprofit Marketing Benchmark Report
Want to learn more about effective advertising, email, and content marketing? Download our 2022-2023 Nonprofit Marketing Benchmark Report for more information, insight, and recommendations on creating a strong digital marketing plan for your nonprofit.
Looking to fine-tune your digital marketing efforts? TechSoup's Digital Marketing Services can help you transform your current marketing strategy, communication, and fundraising. With these services, nonprofits can receive a comprehensive menu of marketing services and month-to-month contracts to help them exceed their digital marketing goals. Get started today.
About the Author
Kayla Walsh is a social media specialist and blogger at Tapp Networks, LLC living in Washington, D.C. Tapp is a mission-driven digital innovation agency that serves nonprofits worldwide seeking to accelerate their social impact through the latest advances in marketing technology. After receiving her bachelor's in marketing from the University of Delaware, Kayla has helped clients increase brand awareness and build an engaged social media community.
Additional Resources
Top photo: Shutterstock