Email is the killer of productivity, according to this Forbes article. The constant notifications, along with the difficulty of discerning which messages are actually important, consume employees' time and act as a distraction. This can mean that the life-changing work of nonprofits takes a back seat in favor of an admin backlog. Luckily, TechSoup has a great selection of offers on products to help you communicate and collaborate well with your colleagues, with barely a "kind regards" in sight. Here's a rundown of some of our favorites.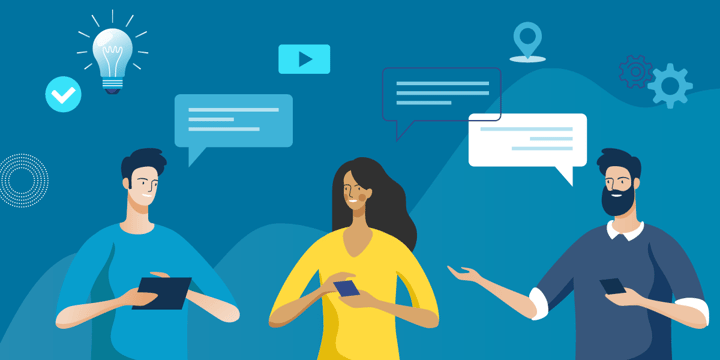 G Suite
G Suite is Google's bundle of apps and services for the workplace. And while it obviously offers its popular email solution, G Suite also includes Google Hangouts and a collection of productivity apps that are built for effective collaboration.
Google Hangouts provides meeting "rooms" in which to organize, plan, and share files. You can integrate it with other Google apps and search past conversations for easy access to the information you need. If you prefer a face-to-face conversation, Hangouts Meet allows you to make video calls with up to 30 people. Plus, you can search your chats to quickly and easily find the information you need from previous conversations.
Google's productivity apps include Google Docs, Slides, and Sheets. Each of these is totally stored in the cloud, meaning that your documents can be accessed from anywhere with an Internet connection. You can easily share any document by sending colleagues a link or email invite, while maintaining control over the editing and commenting privileges of everyone with access to your work.
G Suite will suit a wide range of organizations, but it is especially useful if your employees work remotely or with partners and volunteers who can't be physically present. You can access G Suite for free through the Google for Nonprofits page.
Office 365 with Teams
Office 365 provides cloud-based collaboration capabilities for its productivity tools, as well as Microsoft Teams. Chat and co-author files in real time, work across different devices, and enjoy the easy integration with other productivity tools.
Teams is a great tool encapsulating videoconferencing, chat, and collaboration. It's designed to help you work together effectively by keeping chat logs, relevant documents, and meeting notes in one thread for easy access. It works seamlessly with other Microsoft apps like Word, Excel, and SharePoint, as well as third-party services. It is worth noting, however, that it is only available as part of the Office 365 and Microsoft 365 nonprofit license plans (including the free license options) and cannot be acquired separately.
Office 365 is great for organizations where all employees are already comfortable with Microsoft products. Also, Office 365 offers tools native to all its applications, including Outlook, that provide insights into how you can be more productive. For Outlook, these include tips on how to increase productivity in your email responses, scheduling, and meeting times.
The integration between Microsoft products lends itself to excellent collaboration as well, and all Office 365 apps include collaboration components outside of teams with external audiences and communities. However, if different members of your teams use different productivity tools that don't integrate quite so well with Office 365, this can cause a bit of back-and-forth. Regardless, it's a great option for organizations of any size looking to invest in robust, smart, and intuitive productivity tools.
Slack
Slack is a fantastic central hub to effectively organize, communicate, and collaborate. Unlike email chains, it's easy for team members to join or leave a chat as they need to, and threads mean that conversations that are not relevant to everyone are confined to a space that doesn't detract from the project at hand.
Slack's interface works by creating channels. You decide whether to divide your channels up by team, project, or something totally different. Here at TechSoup, we've even got some fun channels for people to share photos of their dogs or vacations and one for employees who just love boba tea. Use the channels for companywide announcements, idea sharing, or just for fun — the possibilities are endless!
You can upload files to Slack channels, made even easier by integrating tools like Google Drive, as well as sharing photos and videos. You can even make voice or video calls and share your screen in real time, helping you to work with colleagues across the ocean as if they were sitting in your office. If you need to, you can even add people outside your organization to Slack channels to collaborate easily with partners or volunteers.
Searchable chat histories can act as a kind of knowledge base, helping you to find information from a previous conversation, learn the context of a past decision, or see if a question you have has already been answered.
Slack is a great tool for any team, but especially for larger organizations looking to make sharing ideas easier and more efficient, without unnecessary emails and meetings. Slack's scaled pricing makes its services accessible for all organizations, including a free version for small teams to try out.
Asana
Asana is a work management tool aiming to help you set timelines, manage workloads, and hit your deadlines by taking some of the most tedious tasks off your hands and making everything else more intuitive.
When you schedule tasks through Asana, there is no need for a project manager to send endless follow-up emails. Each person can easily see their deadlines, and you can set a task as waiting on another in order to know when it is ready to begin. Customize your search filters, make sure everyone has access to the right information, and choose how to view your workflow to make it easy to understand.
Asana is a great tool for organizing projects involving interacting tasks, multiple deadlines, and lots of people. What used to be an administrative nightmare can be made much less traumatic through the use of Asana's great scheduling and workflow-managing features. It also integrates well with Slack, Google Drive, Microsoft Teams, and plenty of other productivity apps, so you can keep all of the relevant information right at your fingertips.
Level Up Your Workplace Collaboration
TechSoup has some great offers on communication and collaboration tools. Check out some free trials where they are available and see how the tools interact with your current systems. And when you're ready, head to TechSoup's marketplace to take your collaboration up a notch.
More Resources