As many organizations pivoted entirely online in the last year, they were forced to reevaluate their daily operations and how they work as a team. How can your organization continue producing visual content? How can you manage documents and keep track of your workflow? These are all questions every organization asks at one point or another, and TechSoup is here to help.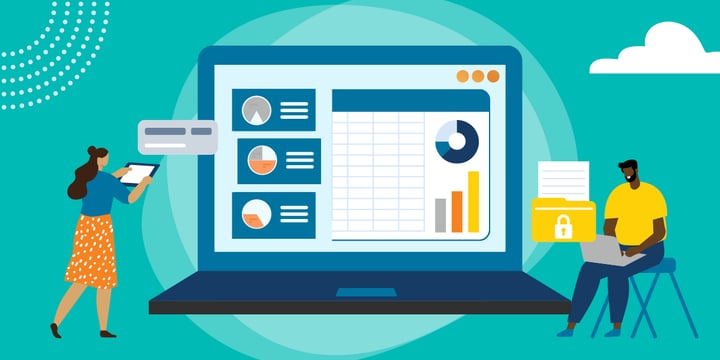 We equip changemakers with transformative technology solutions and skills they need to further their mission. Our community consists of organizations big and small. However, it's important to know what products are most useful for an organization of your size. Over the last year, we've kept track of which products are the most popular and useful for medium-sized nonprofits.
Here are our top 10 products to help you better serve your communities in the years ahead.
Microsoft
TechSoup partners with Microsoft to provide nonprofits with a variety of office productivity software, Windows operating systems, server software, and discounts on cloud subscriptions. For a list of our top Microsoft products for nonprofits of all sizes, check out our recent blog post.
Among our top products for medium-sized organizations are Office Standard 2019 and Microsoft 365 Business Premium, providing an integrated collection of services designed to work together to enable an optimized workflow. The Office Standard suite comes with the core desktop applications such as Excel, OneNote, Outlook, PowerPoint, Publisher, and Word. The Microsoft 365 Business Premium licenses offer all of the same desktop applications of Office Standard, plus online versions, Teams, Outlook, SharePoint, OneDrive, and robust security features to make sure your organization is operating with the best-in-class cloud suite of technology.
Organizations can also receive a donated Windows Upgrade. You can download and install either the Pro or the Enterprise edition through the Microsoft Volume Licensing Service Center.
Designed for small-to-medium-sized organizations with physical or lightly virtualized server environments, the Windows Server Standard operating system allows your computer to manage network roles, such as a print server, domain controller, web server, and file server. For additional licensing information, check out Understanding the Microsoft Server Solutions Available to Your Nonprofit.
Learn more about Desktop Microsoft Operating Systems for Nonprofits.
Adobe
Adobe offers digital solutions for medium-sized organizations to creatively tell stories online, as well as better manage documents. Through TechSoup, organizations can get discounted subscriptions to products such as Photoshop, Illustrator, Dreamweaver, Premiere Pro, and more, to help create stunning creative assets — all available in Adobe Creative Cloud. With Adobe Creative Cloud, your organization can more sophisticatedly manage web design, photo retouching, and graphic design and also get access to Adobe Acrobat Pro DC. Acrobat Pro DC offers cloud storage service for creating, managing, and sharing PDF files.
With Adobe, your organization does not need pro-level skills to tell powerful stories online. Through the Adobe Photoshop Elements 2021 and Premiere Elements 2021 bundle, nonprofits can tell stories online with video and images, regardless of experience.
Browse all Adobe products offered through TechSoup.
Intuit QuickBooks
If your organization is looking for accounting software, Intuit QuickBooks Premier, QuickBooks for Mac, and QuickBooks Online provide nonprofits and libraries the tools they need to manage their budgets, track expenses, and prepare for taxes.
Our most popular offerings for medium-sized organizations from Intuit QuickBooks are the QuickBooks Premier Editions or QuickBooks Online Plus, among others. These products help your organization manage financial tasks like paying bills, creating invoices, producing reports, and tracking expenses, contributions, and payments. They also help you budget based on fundraising and expense data, comparing actual income and expenses to budgeted amounts. You can browse through different products from Intuit QuickBooks here.
Zoom
After many nonprofits pivoted online during COVID-19, virtually meeting with colleagues and holding events became a crucial obstacle to resolve. Zoom allows organizations to easily combine video and audio conferencing, simple online meetings, group messaging, social media streaming and cloud recording into one platform. The Zoom offer through TechSoup provides a 50 percent discount on a one-year subscription for a Zoom Meetings Pro or Business plan, as well as certain add-ons, with up to 99 licenses.
Avast Business
Nonprofits looking to enhance their online security can receive Avast CloudCare Managed Solutions for Businesses through TechSoup. Avast's CloudCare products protect your organization against malware and other cyberthreats — whether they originate from inside or outside the network — through easy-to-implement and -manage solutions. Among our most popular Avast products for medium-sized organizations is the CloudCare Managed Antivirus product, a cloud-based service that protects networked laptops, desktops, and servers against online threats.
Another Avast Business product offered through TechSoup is CloudCare Patch Management, used to fix and prevent vulnerabilities and security gaps in Windows operating systems and other application software.
CloudCare Secure Web Gateway is an ideal solution for organizations looking to enforce web policies on their network and restrict and manage access to content and sites, especially known malicious websites and downloads. CloudCare Secure Web Gateway is a cloud-based DNS service that blocks access to dangerous websites and files to prevent network attacks or data theft.
Lastly, Avast's CloudCare Content Filtering provides a cloud-based regulation service that blocks access to websites that threaten security and productivity.
Learn more about Avast Business for Nonprofits.
Hardware Through TechSoup
Although TechSoup offers a great amount of discounted software, we also offer hardware at a discounted rate. Through TechSoup, organizations can obtain discounted desktops, laptops, monitors, software, tablets, and accessories.
Dell Technologies
Dell Technologies offers discounts to nonprofits for different types of hardware, including desktops, laptops, tablets, servers, and accessories. By requesting access to the Dell Technologies for Nonprofits program through TechSoup, organizations gain access to coupons for the Dell Technologies catalog. Members will also be assigned a Dell Technologies technical advisor who can provide advice on products and discounts.
Lenovo
Lenovo also offers special pricing on desktops, laptops, monitors, tablets, software, and more for nonprofits. After requesting access to the Lenovo for Nonprofits program, organizations gain access to a private store for TechSoup members in which a wide array of Lenovo products have nonprofit exclusive discounts applied.
HP Inc.
TechSoup members can also get access to HP.com computers, printers, print supplies, and more, by requesting access to the HP.com for Nonprofits program.
Organizations can also obtain select, heavily discounted laptops and desktops, such as the HP EliteBook 850 G7, Core i7-10510U and HP ZBook Studio G7, Core i7-10750H directly through TechSoup.
Learn more about TechSoup's hardware offerings.
Mobile Beacon
If your organization is looking for mobile hotspots in order to connect devices to the Internet from any location within a nationwide 4G LTE coverage area, Mobile Beacon can help. Through a generous donation by Mobile Beacon, TechSoup members can receive the hotspots for just $15 per device and then pay just $120 for a one-year service plan offering unlimited, unthrottled Internet access.
NortonLifeLock
Another popular cybersecurity offering through TechSoup is NortonLifeLock, providing antivirus and security software to enhance the security and performance of devices that are not part of managed networks. For medium-sized organizations, a popular product is the Norton Small Business 1-Year Subscription for 20 Devices. With this subscription, your organization can be protected from cyberthreats as well as save system administration costs by keeping your computers running smoothly. Browse our whole collection of NortonLifeLock offerings today.
Asana
Many medium-sized organizations looking for a better way to stay organized with their team, coordinate work, and meet deadlines, request a 1-year subscription to Asana Premium or Business through TechSoup. With this subscription for 50 percent off, your organization can monitor, manage, and easily establish smooth workflows on a desktop or mobile device.
Additionally, Asana helps organizations improve their workflow by offering already created project templates, making it faster and easier to add new workflows within your organization. These templates, for projects such as online fundraising or tracking grants, are useful for organizations since they provide a suggested way of tracking work. From there, organizations can customize the templates as they see fit.
DocuSign
In a remote world, nonprofits need an online platform to sign, send, and manage digital documents from wherever they are. DocuSign offers e-signature and transaction management software to manage documents and is among the most popular products obtained through TechSoup. For medium-sized organizations specifically, DocuSign Standard Edition is the most popular and useful DocuSign product. The offer is limited to organizations with budgets of $1 million or less.
Additionally, nonprofits can also receive a discount on DocuSign Business Pro Edition through TechSoup. This edition allows documents to be signed in remote locations for fundraising purposes, human resources, finance, legal documents, and more. TechSoup also offers DocuSign Advanced Solutions, which provides access to a 40 percent discount on an annual subscription to a variety of DocuSign products.
You can browse all discounted offers from DocuSign.
Learn More
TechSoup continues to be a valuable resource for nonprofits of all sizes across the globe. Whether your organization is looking to acquire tech, learn how to use tech, or be a part of a community to learn and grow in tech, our community can help. Learn more about the discounts and special offers for nonprofits through TechSoup at https://www.techsoup.org/get-product-donations.
Additional Resources
Top photo: Shutterstock