Even in these strange days we have added an impressive roster of new product donations and discounted offers to the TechSoup catalog over the past year. Most of them are very suitable to the new ways that nonprofits and libraries have begun to do more remote work. We think you'll be surprised to see our new offers for 2020 that you might have missed. As many nonprofits gear up for the end of the fiscal year, here's what's new in the TechSoup catalog.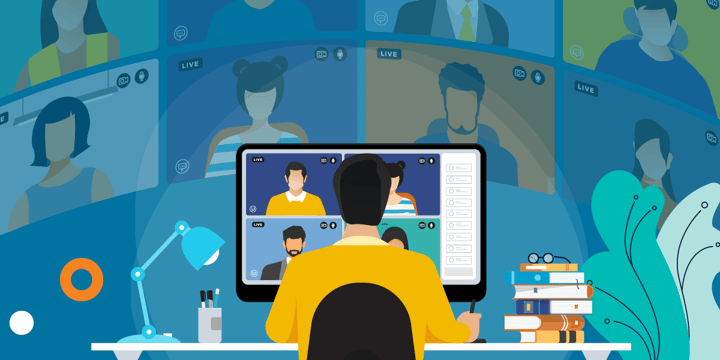 Otter.ai
In these pandemic times, when so many of us are working remotely, Otter Business is a super useful and affordable tool for online (and in-person) meetings that you may not have heard of yet. It is an automated recording and transcription service so you can record meetings in real time and send out live written transcripts of meeting notes to anyone you like.
All meeting attendees can highlight important parts of the meeting collaboratively in real time, and Otter will generate a meeting summary based on the highlights. This service also enhances the accessibility of your audio or video content by creating transcriptions for the deaf or hard of hearing or for individuals with auditory processing disorder.
To make things easier, Otter.ai integrates well with Zoom. Users with an Otter Business account can get a secure, live interactive transcript directly from a Zoom video conference using their new feature called Otter.ai Live Video Meeting Notes. The Otter app can be accessed through a web browser or through mobile apps for iOS or Android.
This offer provides nonprofits with 50 percent off retail pricing. Otter Business subscriptions include priority email support and standard phone and online chat support.
For more information on Otter.ai, check out Welcome to the Otter Side: A Nonprofit's Guide to Otter.ai.
Dropbox
Also useful for remote work, Dropbox for Teams is a brand-new TechSoup corporate partner. Many people are already familiar with the personal version of the Dropbox online file sharing service. TechSoup offers our members a much more robust version, Dropbox Business Standard. This professional subscription offers easy-to-use and secure file-sharing and collaboration tools with a full 5 TB of storage. You can use Dropbox Business to sync, save, and collaborate on content with team members and volunteers and also to safely share content with people outside your organization as well. Dropbox offers one shared workspace for all stakeholders, whether they're in the office or in the field.
We also feature Dropbox Business Advanced, which includes all the features found in Standard, with unlimited storage plus advanced admin controls, including
Tiered admin roles
Single sign-on (SSO) integration
Invite enforcement
Priority support via email, live chat, and phone
This offer provides access to a 40 percent discount on an annual subscription to the Dropbox Business Advanced plan with a minimum of three users at Dropbox's current rates
Dropbox protects your files with the 256-bit Advanced Encryption Standard at rest and SSL/TLS protocols in transit and allows you to remotely wipe files from lost or stolen devices. Dropbox provides online support for this product as well as phone support during business hours.
This offer provides access to a 40 percent discount on an annual subscription to the Dropbox Business Standard plan for a minimum of three users at Dropbox's current rates. After you request this offer through TechSoup, you'll pay Dropbox directly for the discounted subscription.
Fluxx
Even during lean times, fundraising must not stop. TechSoup has a brilliant new grants management offer courtesy of corporate partner Fluxx. We have two great offers on TechSoup now.
Fluxx Grantseeker Premium is a cloud-based grants management system with tools for strategically managing your grant activities. It manages your grants, requests, reports, programs, and payments. Lots of grantmakers are using the Fluxx platform now, so Fluxx Grantseeker Premium is very useful for tracking and sharing your impact metrics with your funders. The service also has pre-built exports that you can use to demonstrate with data visualizations your progress on specific grants or projects.
Fluxx Grantseeker Prospecting is for finding new funders and strategically managing your grant life cycles. You can use Grantseeker Prospecting to explore thousands of funders by focus area and location. You can also report on your organization's progress with pre-built exports and data visualizations. You can also track and share impact metrics with your funders.
These offers provide access to a 50 percent discount on an annual subscription to both plans for an unlimited number of users at Fluxx's current rates. After you request this offer through TechSoup, you'll pay Fluxx directly for the discounted subscription.
Fluxx provides subscribers with an online knowledge base and email support during business hours.
For more information on Fluxx, see Get Your Project Funded with Fluxx Grantseeker.
Dashlane
Dashlane Business is a wise investment in cybersecurity for your organization. The service securely stores passwords, payment methods, and other private information for your organization. Users can securely store business and personal credentials separately in the same account. Here is perhaps the best part. The auto-login and auto-fill features save your employees from typing their password each time.
Your IT administration can provide your staff with access to Dashlane to securely store encrypted passwords for shared accounts and onboard new team members. They can also manage permissions and monitor security issues from a web-based administrative console. The Dashlane application can be accessed through a web browser or downloaded for Windows, Mac, iOS, or Android devices.
This offer provides access to a 50 percent discount on a Dashlane Business subscription for two or more users. After you request this offer through TechSoup, you'll pay Dashlane directly for the discounted subscription. Join TechSoup Boost to get an additional discount on Dashlane.
Dashlane provides online support for subscribers.
Cloudflare
Speaking of cybersecurity, The Cloudflare Custom Pro Plan for Nonprofits is a bundle of Cloudflare's basic network security and performance services. It protects your website as well as your on-premises, cloud-based, and hybrid networks. It provides protection from very common Internet-based distributed denial-of-service (DDoS) attacks. It also gives you mobile and image optimization, load balancing, and lots of other features designed to make your website and IT system reliable, fast, and safe.
The TechSoup offer is intended for smaller organizations that collect contact information (but not payment information directly) on their website or blog. It is suitable for organizations that process online donations or other transactions through third-party payment processors.
Cloudflare works by storing your network layer in the cloud and using datacenters all over the world to bolster your security and improve your website's performance. The service also gives you a dedicated SSL certificate that secures the transfer of data between you and your website visitors. The Cloudflare Pro Plan provides email-only support with a median response time of four hours (Note: Existing, paid Cloudflare users are not eligible for this support via TechSoup).
For more information on Cloudflare, see Help Build a Better Internet with Cloudflare.
TeamViewer
TeamViewer Business offers TechSoup members a cloud-based service for managing your IT remotely. This new offer allows you to access your work computers from home or while traveling. It also manages tech support requests from employees with service queue features. It hosts up to 10 support sessions per hour. It also includes online meetings and video conference features with up to four other remote users.
TeamViewer has robust security features including 256-bit session encryption, two-factor authentication, and support for HIPAA compliance for confidential health information. You can also add mobile device access for an additional fee. If you purchase the mobile device add-on, you can remotely access mobile devices from your computer, smartphone, or tablet.
For technical questions, TeamViewer provides extensive online resources on its website.
Wix
Wix is a website builder service and a really good one. It's so good that ZDnet just declared Wix to be their top pick in 2020 for small organization web hosting. The low-cost TechSoup Wix Unlimited Premium Plan gives you the tools to build a mobile-friendly website for your organization or campaigns — without any technical knowledge or prior experience. This is because of Wix Editor and Wix ADI, which allow you to design customized websites from templates without any coding knowledge.
The Unlimited plan includes free website hosting with a Wix URL and 10 GB of online storage. Of course you can replace your free Wix URL with your own domain from Wix or another Internet domain registrar.
This offer provides a coupon code for a 70 percent discount on a two-year subscription to the Wix Unlimited Premium plan for creating and hosting one website. After you request this offer through TechSoup, you'll pay Wix directly for your discounted plan. Join TechSoup Boost to get an additional discount on Wix.
Wix provides free online and phone support
For more information on Wix, see Create Beautiful Websites for Your Nonprofit (No Coding Required).
Cisco Meraki
Through TechSoup, Cisco Meraki offers a line of networking equipment that provides much-needed security to IT systems at your nonprofit. These include security appliances, various Ethernet switches, and wireless access points.
The MX64 Security Appliance protects your network from Internet threats, including advanced malware detection, content filtering, and more. It also allows you to implement a "bring your own device" (BYOD) policy at your organization, allowing employees to securely access your network, via VPN, using their own equipment.
If you're looking to build or improve upon a wireless network at your organization, Cisco's MR53 a/b/g/n/ac Wireless Access Point can help you do so securely. You'll also benefit from its cloud-based admin dashboard. Cisco Meraki's Ethernet switches allow you to extend an existing network to reach more employees and support new wireless deployments.
You can learn more about Cisco Meraki by reading this blog post, which goes into the above in greater detail.
VMware
VMware is industry-leading virtualization software. TechSoup carries four different versions of VMware server virtualization software that can help your organization simplify datacenter operations and management. It can also decrease your IT overhead and direct expenses. If your organization has multiple servers in your IT system, virtualization software consolidates and simplifies them for your systems administrator.
TechSoup also offers two desktop virtualization solutions.
TechSoup's VMware products include one, two, or three years of VMware Technical Support and Subscription Services (SnS). When your SnS expires, you can purchase additional years directly from VMware at retail prices. Since you won't receive a discount when you renew your SnS, your long-term subscription costs will be lower if you request this product with two or three years of SnS.
For more information on VMware, see How VMware and TechSoup Are Powering Digital Transformation for Nonprofits.
We hope you like our list of new offers in our ever-expanding TechSoup catalog. As always, check your eligibility for all the TechSoup product donations on our Check Your Eligibility page.
Additional Resources