Zoom is an ever-evolving video conferencing platform, suitable for one-on-one check-ins, group meetings, large events, and everything in between. It's also becoming increasingly interconnected with other products, including project management tools, collaboration services, and document storage solutions. Here is a selection of the 10 easiest-to-use Zoom integrations to use in your nonprofit workspace.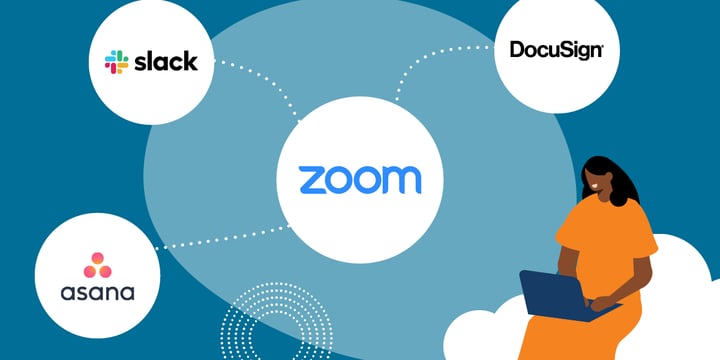 Asana
Asana is a flexible project management tool helping teams to work together efficiently. Using the Asana app for Zoom, you are able to make your meetings more efficient and keep notes from those meetings safe and accessible. You can create Asana action items straight from Zoom calls and automatically transfer meeting recordings and transcripts into your Asana project. You can also add Zoom meetings to tasks in Asana to ensure that everyone comes to the meeting prepared.
Box
Box is a document management tool that teams can use to store, share, and collaborate on files. You can integrate Box with Zoom in order to browse, preview, and share files straight from Zoom, regardless of whether you are in an active meeting. With just one click, you can select a file to present to all attendees, and you can quickly upload a file to Box from within the Zoom app. There is also an integration that allows you to start or join a Zoom meeting directly from Box so that you can quickly check in with your team while collaborating on documents.
Dropbox
Dropbox is a cloud-based collaboration, team management, and file sharing service. The Dropbox Spaces app for Zoom brings all of those capabilities closer to your team. You can assign action points and take collaborative notes in real time and connect your notes to the relevant projects to keep everyone on track. Dropbox Spaces keeps your agendas, meeting highlights, and relevant files in one place so that they are ready to go for your next meeting.
DocuSign
DocuSign is a cloud service allowing you to send and sign documents virtually, from any Internet-connected device. It is a flexible and secure solution, allowing you to manage contracts, applications, NDAs, or any other forms and agreements.
Using the DocuSign integration with Zoom, you can accelerate agreements and create a more immediate customer service experience. In just a few clicks, you can select an agreement and send it to another participant on your Zoom call. You can then use the remote control feature to enable participants to sign live on the call.
Google Calendar
For organizations that manage their schedules using Google Calendar, integrating it with Zoom can help you to stay organized and up to date. You can receive notifications in Zoom Chat when you have a new calendar event and get reminders when a meeting is about to start. You can make the integration work for you by customizing it to send the reminders and updates you want to receive.
Outlook
Zoom for Outlook allows you to manage Zoom meetings from within the Outlook app. You can use it to add a Zoom meeting to a new or existing Outlook event in order to save you time when scheduling. This also helps your team to join the meeting straight from their own Outlook calendar, rather than jumping between apps in order to join.
Microsoft Teams
The Zoom integration in Teams allows you to synchronize your use of the two tools. It enables Teams users to join Zoom meetings, and vice versa, quickly and easily. You can start or join a Zoom meeting using the Zoom button in any chat, channel, or group, or use the @Zoom command in a 1:1 chat. You can also pin the Zoom app to the app bar in Teams for easy access and automatically add Zoom details to a meeting invite by selecting Zoom Meetings from the meeting options.
Slack
Many organizations use Slack as their primary workplace messaging platform. Once you have integrated Slack with Zoom, you can hop from message to meeting immediately using the /zoom command in a chat box or start a meeting by clicking on the phone icon in the upper right corner of your Slack window and selecting Zoom. You can then monitor the meeting, including who joins and leaves, and how long it has been running, and see summaries of that information after it ends. You can also share meeting recordings from any Slack channel or direct message.
Otter.ai
Otter.ai is an automated recording and transcription service that can be used to transcribe audio live or from an uploaded recording. Otter.ai integrates with Zoom in order to offer live transcripts of a meeting and record audio, which can be accessed through the LIVE menu in the Zoom call. This improves the accessibility of your meeting, making it easier for those with hearing loss, or whose first language may not be the same as the primary language used by the presenter, to participate freely. Otter.ai can also automatically record and transcribe all of your Zoom meetings and upload the files to the cloud to look at later.
Donations by Pledge
Donations by Pledge is a Zoom integration that allows you to add a Donate button to any Zoom meeting. This is perfect for online galas or fundraising events because it gives attendees an immediate way to give without leaving the meeting. All participants can see a live feed of donors and how much has been raised, and those who donate will gain access to a special custom background. This is a great way to encourage giving in a virtual event setting, and it includes the added bonus of being able to immediately thank your donors by name just seconds after they give.
Do More with Zoom
You can save time and accomplish more with your Zoom meetings by integrating it with other great tools. The Zoom App marketplace is overflowing with over 1,500 integrations to make your meetings more efficient, effective, and enjoyable. Explore to find out which ones might be useful for your team.
Access Zoom through TechSoup and get a 50 percent discount on a one-year subscription for Zoom Meetings Pro or Business plans as well as selected add-ons.
Additional Resources