According to a 2022 report by Cloudflare, Internet shutdowns are on the rise as a key way for governments to stop the flow of information, censor citizens, and stifle political opposition.
In a recent study conducted by Connect Humanity and TechSoup, 48 percent of civil society organization (CSO) respondents said the Internet is unreliable for the people they serve. Of those, 6 percent cited government shutdowns as one factor, while that figure rose to 13 percent for those serving rural communities in the Global South.
WhatsApp is a critical part of communication infrastructure in many countries. It is used by over 2 billion people to connect privately and securely with loved ones, conduct business, and so much more. When access is restricted, organizations may be left unable to communicate with employees or the communities they work with during critical events and crises.
WhatsApp uses end-to-end encryption that prevents third parties (including Meta) from viewing messages, making it a key target for authoritarian regimes. Currently, five countries have completely blocked WhatsApp in 2023: China, North Korea, Syria, Qatar, and the UAE. Turkey temporarily banned WhatsApp in 2016, Iran restricted access to it in 2021, and countries like Uganda limit access by enforcing a tax of 200 shillings per day for using social media.
WhatsApp has recently released a new feature that allows people to reroute their connection through proxy servers stationed around the world, maintaining end-to-end encryption of their conversations. This is helpful for organizations that work in areas with restrictive regimes or with communities under threat and that need a platform for secure and reliable communication.
In this post, we'll cover
What Is a WhatsApp Proxy Server and Why Use It?
A proxy server is a computer that sits between you and a server — essentially a bridge to access the Internet and servers you access. When you connect to the Internet via a proxy, the website or file sharing site you're using won't be able to see your location. Also going through a proxy server may allow you access to services that would not be available directly through your Internet connection.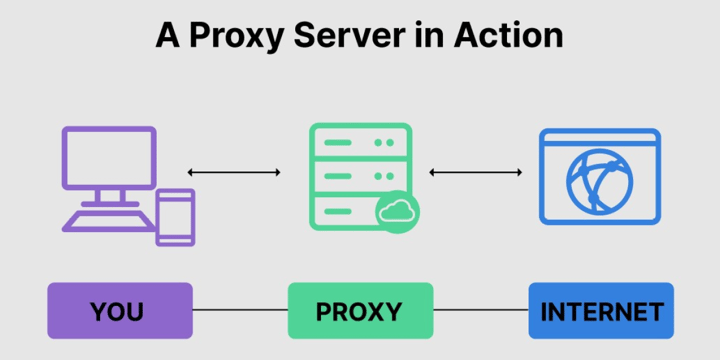 Recently, WhatsApp announced a freely available proxy server for WhatsApp users. This means that you can connect to a proxy server for your conversations without installing any additional software. Using a proxy server enables you to connect to WhatsApp through servers set up by volunteers and organizations around the world dedicated to helping people communicate freely.
Proxy servers maintain the same level of privacy and security that WhatsApp provides, so your messages are not visible to anyone in between — including WhatsApp, Meta, or the proxy server itself.
While using a proxy might allow you to use WhatsApp in a country that has banned the service, there are risks associated with doing this. While the proxy owner won't be able to see your messages (since WhatsApp encrypts these), they will be able to see your IP address. WhatsApp does not set up these servers, therefore it is important that your proxy be provided by a trusted source. This is critical if exposing your IP address might pose a security risk to you or others in your organization. WhatsApp does not host any proxy servers, so you will need to find a third-party server to connect to on your own through trusted contacts.
For additional safety, consider a virtual private network (VPN). VPNs offer another layer of encryption that hides your IP address from the proxy server. While there are a number of free VPNs, the more secure ones are generally paid. Wired recommends NordVPN, Windscribe, and Surfshark.
How Do You Access a WhatsApp Proxy Server?
Before you do anything, make sure your WhatsApp is updated to the latest version.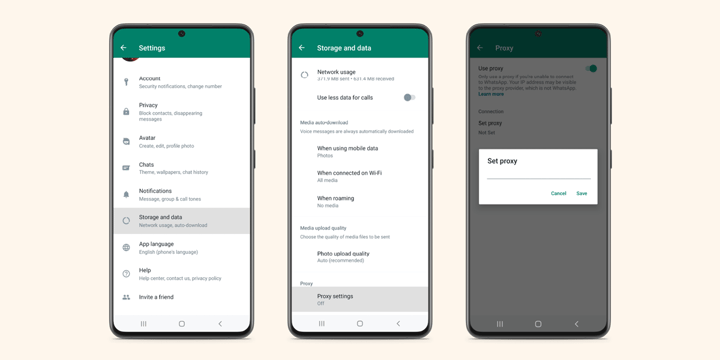 Tap on the WhatsApp application on your phone to open it.
Tap Settings > Storage and data > Proxy.
Tap Use proxy.
Enter the proxy address you want to connect to.
Tap Save.
If you are successfully connected, you will see a green check mark.
If you are unable to send and receive WhatsApp messages using a proxy, it might be blocked. To remove the proxy and connect to a different one, long-press the existing proxy address, tap Delete, and connect to another proxy address.
Can You Set Up Your Own WhatsApp Proxy Server?
WhatsApp has made the software for running your own proxy server available free on Github. To set this up, you need to be comfortable with networking concepts and software tools like Docker and Github.
With the introduction of the proxy server, WhatsApp is providing an additional and important option for keeping your lines of communication open.
Additional Resources
Top photo: Shutterstock
Image 2: courtesy of Fortinet