Video continues to be a powerful medium to engage with nonprofit donors, supporters, and members. A Google study has found that over three-quarters of donors consider online video ads to be the most useful advertisements when deciding whether to donate to an organization. Furthermore, 57 percent of people who watch a video go on to make a donation.
Whether you're looking to freshen up your digital storytelling skills or have no idea where to start, we've got you covered. In partnership with Adobe, TechSoup hosted a recent webinar on how to easily create and share professional-looking fundraising videos on your mobile device using Premiere Rush and Stock footage. In case you missed it, let's go over some key takeaways from the online event.
Smarter Storytelling at Your Nonprofit
Your step-by-step plan for how your nonprofit will end labor trafficking by 2050 is fantastic. So are your statistics detailing how many lives have been saved by your organization's work. But the reality is, many people donate with their emotions rather than their math brains, so what is more likely to encourage people to give to your fundraising campaign is a story. Here are some storytelling tips to create more engaging videos.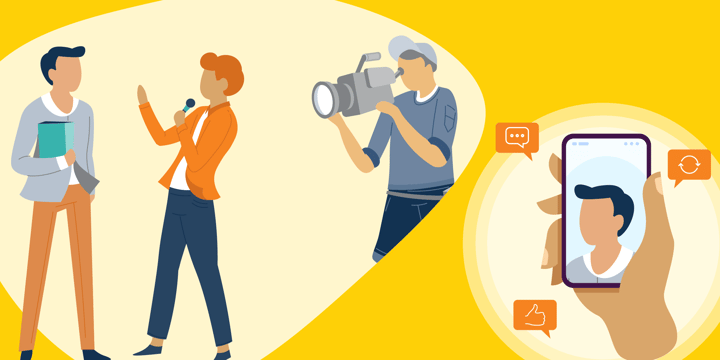 Create a Storytelling Culture
Mark important moments, such as awards, anniversaries, and significant visitors in a shared document or calendar online. Then assign someone at your nonprofit to be a "story gatherer" while making it clear that it is everyone's responsibility to look out for interesting subjects that tell the organization's story.
Next, identify ways to make sharing stories really easy. Perhaps an online form to which everyone in the organization has access, or a dedicated Slack channel. You can also integrate stories into your all staff meetings where appropriate, giving five minutes at the end to share significant moments that might be relevant to your supporters. As you near the end of the calendar year, you can even incorporate 2019 highlights into holiday parties, all-staff meetings, and year-end reviews. These are all ways of integrating storytelling into your organizational culture, developing clear pathways for sharing stories, and celebrating the work of your organization in your daily operations.
Capture Stories Well
Be creative about the types of stories you tell. Try a "day in the life" of one of your volunteers, take your audience on a tour of your office, or have a member of your community interview you. There are loads of ways to keep your content fresh, especially when you're using video!
You can also interview people who benefit from your cause. When you conduct an interview, it's important to be mindful of the narrative arc you're looking to follow. It also helps to thoroughly research your interviewee beforehand and to be an active listener, asking interesting follow-up questions. You can find more interviewing tips in this article.
When told with creativity and personality, while staying true to your brand, your stories can be a driving force to bring interest and donations to your organization.
Use Your Channels Wisely
Be mindful of the communication channels you use to share your stories. If you can, find out which types of content perform the best on each individual channel: This will help you tailor your content to each audience demographic. Tools like Google Analytics and Power BI can help provide you with insights based on user activity and engagement on your website and social media.
Many social media channels have similar tools built in, such as Instagram's insights feature, and you can find plenty of third-party services to suit individual needs. Check out this blog post for specific advice on Facebook analytics and insights. For email-specific analytics, you can check out HubSpot's marketing tools. With this information in mind, decide where to focus your efforts for the greatest impact, and which types of content you will post to each channel.
With this in mind, sometimes republishing your content on different channels can be beneficial. If you had a successful email campaign, create a video following the same story and use it in your next round of advertising. Newsletters, podcasts, and donor thank-yous are all great channels to reuse a story that received great feedback the first time around. Identifying one effective story and repurposing it can have a big impact on your engagement and donations.
How Adobe Premiere Rush Can Help Nonprofits
Once you've gathered your most compelling stories and chosen the communication channels to target, it's finally time to put your video together. Adobe Premiere Rush is a user-friendly video editing tool that produces professional results. It's an application included in the Adobe Creative Cloud membership. This is a fantastic editing tool in many ways, but here are a couple of the most useful features for nonprofits.
Collaborate and Edit On the Go
Premiere Rush automatically syncs to the cloud and works across all of your devices, meaning that your video will always be up-to-date with the latest edits. This helps nonprofits with remote staff to seamlessly collaborate on video content, without the stress of downloading and sending large video files. The mobile app is very intuitive, allowing pretty much anyone to create high-quality content and increase their impact through video storytelling. To hone your skills further, check out this great video showcasing some of the ways you can use Adobe Photoshop Elements and Premiere Elements 2019 at your nonprofit.
Adobe Stock
Using Adobe Stock gives you access to a bank of video clips to use in your projects. This is the perfect solution when you need shots to fill space in your video. You can find a generic, high-quality clip without the headache of taking the video yourself. This can make your video storytelling easier, more cost-effective, and more professional. There are currently no discounts available through TechSoup for this; however, you can find free-to-use video clips through websites like Pixabay if your nonprofit cannot invest in Adobe Stock. You can also check out our article on finding and using images for your nonprofit.
Engage Your Audience with Video Storytelling
Video storytelling can build interest in the work of your nonprofit and connect to you supporters on an emotional level. Give your audience a new perspective on the work you do by finding the very best stories, putting a camera on them, and showing them to the world.
Useful Resources