Hardware constitutes the bones of your organization's technology and should be factored into your planning and spending for the fiscal year-end. The world's greatest software would be nothing without computers and tablets to run it on — and a reliable connection to the Internet. But hardware can also be a pressure on budgets, as it is an unavoidable — and sometimes very high — operating cost. We have gathered some of the great hardware options available through TechSoup, covering computers and laptops, networking solutions, printers, and mobile hotspots.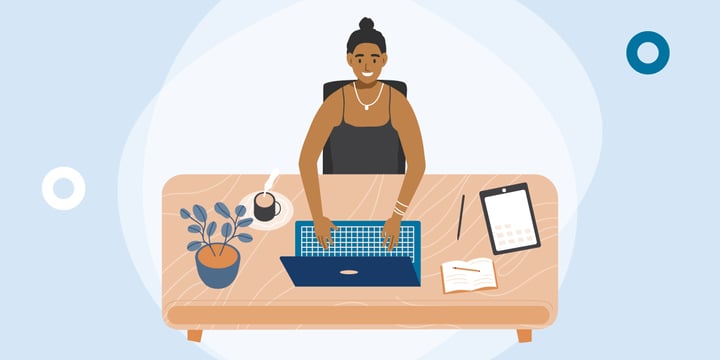 For many nonprofits, June 30, the end of the 2022 fiscal year, is fast approaching. Make sure you've settled your accounts, pulled together any end-of-year reports, and planned your budget for the new fiscal year. Make the most of your remaining 2022 budget by considering how best to use any leftover money — for example, by trying out some new tech tools.
Networking
Equip your computer network with products from Cisco and Cisco Meraki and connect to the Internet with hotspots from Mobile Beacon.
Cisco Donation Program
The Cisco for Nonprofits Program is a longtime favorite of our members who need industry-standard new routers, switches, security appliances, and wireless access points. These product offers bring state-of-the-art Internet connectivity and security to your computer network.
Cisco Meraki Donation Program
Access points, security appliances, Systems Manager device licenses, MS225 Series switches, and more are now available through the Cisco Meraki Donations for Nonprofits program. Cisco Meraki products are made available for donation through the Cisco for Nonprofits program to eligible organizations. Check your organization's eligibility here. All Cisco requests are subject to a secondary eligibility review to verify that the organization meets Cisco's philanthropy guidelines.
Cisco is the largest and most reputable networking company in the world, and admin fees for its donations are available at a fraction of retail.
Cisco Meraki Discount Program
Cisco Meraki is a Cisco-owned TechSoup partner company that offers a wide assortment of cloud-managed wired and wireless networking hardware and security products. They have what you need to set up a state-of-the-art secure IT network, which is essential to every modern IT system. TechSoup also offers Meraki license renewals, regardless of where you purchased your hardware.
Cisco Meraki switches help organizations extend an existing network, bringing wired connectivity to more employees and supporting new wireless deployments. The Cisco Meraki MS210 Series 48-port Gigabit Ethernet switch is a popular cost-efficient product available through TechSoup. Any of the Meraki wireless access points available through TechSoup will work with this device. Access points grant wireless network access to staff and guests and expand the size of your wireless network.
Cisco Meraki security appliances are also very popular. They are all-in-one devices that include firewall, VPN, and a Gigabit Ethernet switch. They help organizations protect against online threats and allow employees to securely access your network using their own mobile devices.
Cisco Meraki security cameras help nonprofits protect their offices and detect, classify, and track objects through machine learning and advanced analytics.
Please note that organizations seeking Cisco or Cisco Meraki donations may not have requested products from the Cisco Meraki discount program for six months prior to the donation request and vice versa. You can find more information about the difference between the Cisco Meraki donation and discount programs in this blog post.
Mobile Beacon Hotspots
Mobile Beacon hotspots have been a valuable resource to both nonprofits and libraries, and to date, the program has provided over 57,000 organizations with at least one hotspot for employee or community use. Each hotspot provides unlimited mobile broadband Internet connectivity for up to 15 computers or Wi-Fi-enabled devices. They work anywhere within the Mobile Beacon coverage area. A single hotspot is available for a $15.00 admin fee plus $9 per hotspot to Mobile Beacon for shipping and handling.
Each hotspot requires a Mobile Beacon LTE service plan at the current nonprofit and library pricing of $120 for 12 months of unlimited service. You'll need to request your hotspots and purchase service plans on Mobile Beacon's website before June 30, 2022. Beginning July 1, 2022, you can request up to 11 more hotspots per TechSoup account. This is the lowest-cost mobile broadband available in the country for nonprofits and libraries.
Refurbished Hardware
TechSoup's Refurbished Hardware Program has supplied our members with over 160,000 affordable refurbished laptop and desktop computers and monitors from our trusted partners. All of our refurbished hardware devices are brand-name commercial-grade IT equipment and are designed for long life and heavy use. They also cost 30 to 50 percent less than equivalent new models. We have many models of computers to choose from. The computers come with Windows 10 Pro preinstalled. Most have full one-year warranties, and as always, shipping is free. This program also features refurbished tablets and smartphones and new accessories.
By offering refurbished computers, we put useful technology in the hands of nonprofit organizations and public libraries and save it from an early disposal. When the refurbished computers you receive finally reach the end of their useful lives, we provide you with a no-cost, secure, and environmentally safe solution to dispose of them with our TakeBack program.
Here are five affordable factory-reconditioned products that we're currently featuring, with plenty in stock that you might like:
Save even more on our bulk pricing.
Microsoft Certified Pre-Owned
TechSoup has partnered with leading distributors to provide Microsoft Certified Pre-Owned (CPO) devices to nonprofits and libraries. These devices are inspected and reconditioned at an original Microsoft factory location to the highest functional and cosmetic standards of refurbished hardware. They are in like-new condition and are covered by a standard one-year Microsoft warranty.
Need a docking station to pair with this device? TechSoup has you covered! Check out the Kensington SD4845P Docking Station for Surface Devices.
New Hardware
Dell Technologies, HP Inc., and Lenovo all offer special nonprofit discounts on equipment from their catalogs. There is no admin fee to get access to many of these discounts.
Dell
The Dell Technologies for Nonprofits program provides very decent discounts over Dell's best pricing for new IT equipment, including OptiPlex, Latitude, and XPS computers, PowerEdge servers, monitors, Logitech equipment, and accessories. You can now access the Dell discounted nonprofit offers at a zero admin fee to TechSoup. Employees and volunteers of your organization can also purchase their own Dell Technologies products through this program. In the Dell program, you can purchase as many discounted products from Dell as you need. Dell also provides live customer assistance to help you make the right choices for your needs.
HP
Our HP.com for Nonprofits program offers access to a variety of discounted products from HP.com. HP is not just the largest printer maker in the world but also the second-largest computer maker. TechSoup members can access a private online HP.com store that offers nonprofit discounts on commercial models of desktops, laptops, printers and supplies, installation services, and extended service plans. There is no admin fee to gain access to the store, but you'll pay HP directly for any discounted products you purchase within it. Select computers are also available directly through TechSoup at a minimum 25 percent discount that cannot be found through the private store or elsewhere. You can purchase as many discounted products as you need.
Lenovo
The Lenovo for Nonprofits program provides substantial discounts on new equipment from the largest computer maker in the world. In this special discount program, Lenovo offers TechSoup members a wide choice of desktops, laptops, monitors, tablets, software, and accessories. This program also features a zero admin fee and gives you access to Lenovo's nonprofit discount catalog, where you can save up to 25 percent on retail pricing. Employees of your organization and their friends and family can also purchase their own Lenovo products through this program. You can also take advantage of live customer assistance in making your best selections once you have access to the program.
As you can see, TechSoup now has plenty of discounted new and also low-cost factory refurbished equipment for you. It's a great time to get the IT equipment you need. The prices are very good, and the selection is huge.
Additional TechSoup Hardware Resources
Top photo: Shutterstock