Investing time into creative content like blogs, videos, images, and animations can help your organization to stand out. You can use these methods to tell your story more effectively, to be discovered on search engines and social media, and to encourage people to engage with your cause.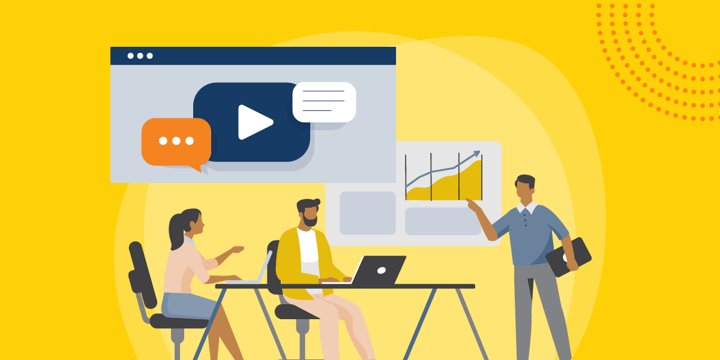 As we enter 2023, here are a few best practices you can consider as you design creative content for your organization.
Content with a Purpose
Before you start typing a blog post, or hit Share on a social media post, consider why you are doing so. Do you want to entice people to donate? Recruit volunteers? Introduce your organization to new people? These factors should influence what you create and how you promote it.
If you want blogs to serve as an entry point for newcomers to your nonprofit, you should pay particular attention to search engine optimization (SEO). SEO refers to the tactics used within a web page or blog in order to improve its ranking on search engines like Google. These tactics include using relevant keywords, simplifying page layouts, and including plenty of calls to action.
In fact, it's important to ensure that you use CTAs clearly throughout all your content. If you want users to sign up to your newsletter, include the sign-up form clearly on the page. If you want them to donate, clearly display a link to do so in multiple locations on the page. In the long run, use an analytics tool to see how your content is performing and adjust accordingly.
Short and Sweet
Short and snappy content is likely to be the most successful in terms of engagement and tends to have a higher SEO value. If you're relying heavily on long, written content, the likelihood is that very few people are reading the whole thing. Divide the important messages into chunks and use them across your website, social media, and other outlets. As well as increasing views and clicks, this helps to increase the impact of your work.
Video and Beyond
Video is very engaging and can be used to complement blog content or illustrate website pages. Something like a "day in the life" video, some testimonials from clients, staff, and volunteers, or a tour of your premises adds some additional interest and helps readers to feel connected to your organization. These don't need to be super high-quality or use professional equipment. Simply focus on telling a great story and giving viewers an insight that will encourage them to engage further with your nonprofit. You can use Adobe Express, which is donated to nonprofits through TechSoup, to edit and crop your videos before publishing them on your site. It's easy to use and can help you to turn smartphone clips into professional and engaging videos.
Interactive Elements
For interested visitors to your site, interactivity can be the key to maintaining their attention. By using a tool like Genially, you can embed interactive presentations, quizzes, or information packs to help visitors learn more about your organization. For example, you might include a quiz about the sector you work in, testing the user's knowledge and perhaps surprising them with some details they might not have known. This is a great opportunity to show website visitors the value of your nonprofit, encouraging them to engage further now that they know a little more about the key issues you're working on.
Graphics and Animations
It's easier than you might think to create graphics for your social media. Tools like Adobe Express and Canva are easy to use, with preexisting templates to get you started. Adobe Express allows you to import your organization's branding and colors in order to customize your chosen template, with plenty of image and text editing tools to help you get your message across. If you're using video, you can crop, resize, reverse, and merge clips to tell the perfect story.
Express also includes some animation capabilities. However, if you're looking to tap into your inner animator a little more, check out VideoScribe software from Sparkol. It's drag-and-drop whiteboard animation software, helping you to create customized and branded videos that get your message across in a new and refreshing way. You don't need any previous experience, and you can use your own assets or choose from Sparkol's library of graphics to build a great animated video to share on social media.
Repurpose and Promote
Another great way to increase the value of your content is to use it again and again. Promote it on social media, send it out in email campaigns, and promote it through paid ads to bring extra eyes to it. Most people will not see a blog post when you first publish it, so repurpose and cross-post it whenever you can to make the most of your hard work.
It's helpful to create evergreen blog content, especially when looking to repurpose it over time. Evergreen content does not go out of date, or only requires occasional updates. For example, a blog post that gives background on the issue you focus on and explains how your organization fits within that topic area will not quickly become irrelevant. This makes it a perfect piece to publish and repurpose across your marketing channels.
It's also important to squeeze as much juice as you can from a given piece of content. For example, if you conduct an interview in order to develop content for a blog, ask for permission to use that video recording in a short video. That video can then be shared on your social media channels, embedded in blogs, linked to in emails to your supporters and beneficiaries, and more. Using the tools mentioned earlier, creating great videos for your nonprofit is easier than you think. Just be sure to gather the necessary permissions to feature anyone on video with a signed release form.
Get Creative in 2023
There are a wide range of benefits to investing in your creative content in this new year. It can help to establish your organization's voice and brand, tell your story in a more engaging way, and encourage people to donate, volunteer, or support you. With many tools available to nonprofits at a lower cost, it's the perfect time to use creative content to market your organization and engage your supporters.
Additional Resources
Top photo: Shutterstock