As many organizations pivoted entirely online in the last year, they were forced to reevaluate their daily operations and how they work as a team. How can your organization continue a smooth workflow from home? How can your information stay safe while working remotely? These are all questions every organization asks at one point or another, and TechSoup is here to help.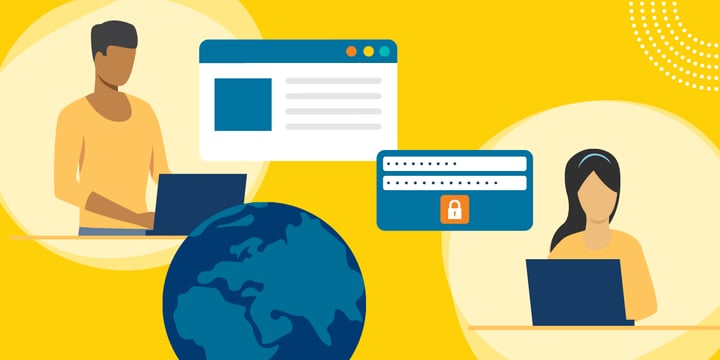 We equip changemakers with transformative technology solutions and skills they need to further their mission. Our community consists of organizations of all sizes. However, it's important to understand what products are more appropriate than others for organizations of different sizes. Over the last year, we've kept track of which products are the most popular and useful for large-sized nonprofits (which we are here defining as organizations with annual operating budgets greater than $2 million).
Here are our top 10 products for large-sized organizations to help you better serve your communities in the years ahead.
Microsoft
TechSoup partners with Microsoft to provide a variety of office productivity software, Windows operating systems, server software, and discounts on cloud subscriptions for nonprofits. For a list of our top Microsoft products for nonprofits of all sizes, check out our recent blog post.
Large organizations are eligible for both donated products, with maximum allotments, and discounted products, with unlimited allotments.
Microsoft Office and Windows Solutions
Among our top products for large organizations are Microsoft 365 and Office 365 Enterprise, providing an integrated collection of services designed to work together to enable an optimized workflow. Microsoft 365 Business Premium licenses offer desktop applications such as Excel, OneNote, Outlook, PowerPoint, Publisher, and Word. Additionally, Microsoft 365 Business customers get access to Microsoft Teams, Outlook, SharePoint, OneDrive, and robust security features to make sure their organization is operating with the best-in-class cloud suite of technology.
Office 365 Enterprise offers the same Office desktop applications, hosted email, online file storage, and collaboration tools — the main difference is that Enterprise licenses are mostly meant for over 300 users. You also have the ability to add productivity services, like mobile apps for Android and iOS, Skype minutes, and more.
TechSoup also offers on-premises Microsoft products, including Office and individual Office applications like Project and Visio. Large organizations can request an unlimited number of licenses at a discounted rate.
To ensure that your organization is operating on the latest operating system across your network, learn about Desktop Microsoft Operating Systems for Nonprofits.
Microsoft Servers and Remote Desktop Services
Among the most popular Windows products for large-sized organizations is the Windows Server Standard operating system, allowing you to manage network roles, such as a print server, domain controller, web server, and file server. For additional licensing information, check out Understanding the Microsoft Server Solutions Available to Your Nonprofit.
Additionally, Windows Server User CAL (client access license) is Microsoft's solution for workgroup file, print, and communication servers, as well as for Internet content delivery. A user CAL is needed for each user accessing Windows Server.
Windows Remote Desktop Services, another popular product offered through TechSoup, is a technology that lets users remotely execute applications on Windows Server, through a wide range of devices, over virtually any type of network connection.
SQL Server Standard Edition with server/CAL licensing is relational database server software offering tools for data storage, management, analysis, and reporting. This allows your organization to serve data to a customer relationship management (CRM) platform, analyze collected data, and support a dynamic or intranet site. Learn more about the Microsoft SQL Server for Nonprofits.
Adobe
For large organizations, Adobe offers digital solutions to easily create eye-catching visual assets, creatively tell stories online, and manage documents in one place. Through TechSoup, organizations can get discounted subscriptions to products such as Photoshop, Illustrator, Dreamweaver, Premiere Pro, and more, to help create stunning creative assets — all available in Adobe Creative Cloud membership. With Adobe Creative Cloud, your nonprofit can better manage web design, photo retouching, and graphic design and also get access to Adobe Acrobat Pro DC. Acrobat Pro DC offers additional cloud storage service for creating, managing, and sharing PDF files.
Large organizations also use Adobe Acrobat Pro 2020 for Windows or Mac, which is the on-premises version of Adobe's popular PDF software. Learn the differences between Acrobat Pro 2020 and Acrobat Pro DC today. We should note that there is an annual budget limit of $10 million for organizations looking to acquire Acrobat Pro 2020.
If your organization does not have pro-level skills to tell powerful stories online, the Adobe Photoshop Elements 2021 and Premiere Elements 2021 bundle can help. This great pair of solutions help nonprofits quickly and efficiently tell stories online with video and images, regardless of experience.
Browse all Adobe products offered through TechSoup today.
Zoom
With many nonprofits having to adjust their daily operations due to COVID-19, virtually meeting with colleagues and holding events became a crucial obstacle to resolve. Today, many organizations are still operating remotely — and plan to maintain some form of hybrid work-from-home environment into the future. Zoom allows organizations to easily combine video and audio conferencing, simple online meetings, group messaging, social media streaming, and cloud recording into one platform. The Zoom offer through TechSoup provides a 50 percent discount on a one-year subscription for a Zoom Meetings Pro or Business plan with up to 99 licenses, as well as certain add-ons.
Intuit QuickBooks
With Intuit QuickBooks, organizations can gain access to accounting applications, along with cloud-based versions that accept business payments, manage and pay bills, and provide payroll functions. The most popular accounting software for large-sized organizations in the TechSoup community is Intuit QuickBooks Premier, providing nonprofits and libraries the tools they need to manage their budgets, track expenses, and prepare for taxes.
Nonprofits can also purchase other Intuit products through TechSoup, such as QuickBooks for Mac and QuickBooks Online, helping large organizations manage financial tasks like paying bills, creating invoices, producing reports, and tracking expenses, contributions, and payments.
You can browse different products from Intuit QuickBooks here.
Tableau
Tableau products offer data analysis and visualization software to nonprofits to produce and share visual representations of collected data. Many large organizations in our community obtain the two-year subscription to Tableau Desktop and Tableau Prep Builder. It has a user-friendly interface that allows users to connect to most databases and spreadsheets, create and share interactive visualizations and dashboards, and prepare data for analysis. Without requiring any programming experience, Tableau can help your organization implement stronger marketing and fundraising campaigns through the use of simple data management. Tableau is available on TechSoup only for organizations with annual budgets of $5 million or less.
Visit the Tableau product page in our catalog to learn more.
Veritas
Veritas offers enterprise backup and recovery products to help multiple networked computers protect against potential data loss. Veritas Backup Exec 21 backup and recovery software is among the most popular products for large-sized organizations. It's easy to use, with an intuitive interface and setup wizards to simplify installation, backup, recovery, media management, disaster preparation, cluster installation, and agent configuration. Capable on Windows, Mac, and Linux, Backup Exec lets you back up multiple servers at once, either as part of one backup definition or individually in separate definitions.
Learn more about the Veritas products offered through TechSoup.
Avast Business
Large-sized organizations looking to enhance their online security can receive Avast CloudCare Managed Solutions for Businesses through TechSoup. Avast's CloudCare products protect your organization against malware and other cyberthreats — whether they originate from inside or outside the network — through easy-to-implement and manage solutions. For large-sized organizations in the TechSoup community, our most popular Avast product is the one-year subscription to CloudCare Managed Antivirus, a cloud-based service that protects networked laptops, desktops, and servers against online threats. Learn more about Avast Business for Nonprofits.
NortonLifeLock
Another popular cybersecurity offering through TechSoup is NortonLifeLock, which provides antivirus and security software to enhance the security and performance of devices that are not part of managed networks. Among the NortonLifeLock products available, Norton Small Business 1-Year Subscription for 20 Devices is the most popular product for medium- and large-sized organizations. With this subscription, your organization can be protected from cyberthreats as well as save system administration costs by keeping your computers running smoothly. Browse our whole collection of NortonLifeLock offerings today.
Autodesk
Autodesk design software helps to design buildings, infrastructure, products, entertainment content, and more. The Autodesk donation program is limited to organizations with annual budgets of $10 million or less. This donation is available for download on a single user's desktop or laptop and comes with 25 GB of A360 cloud storage.
Through TechSoup, organizations can get a donated one-year subscription to Autodesk's popular AutoCAD software for a low admin fee. Use AutoCAD to create 2D and 3D designs and to provide CAD and BIM training to your nonprofit's constituents. Specialized tool sets allow you to create a range of designs for use in a variety of contexts, and remote access capabilities make it easy to design from anywhere.
Learn more about how AutoCAD can help your nonprofit today.
TechSoup Can Help
TechSoup continues to be a valuable resource for nonprofits of all sizes across the globe. Whether your organization is looking to acquire tech, learn how to use tech, or be a part of a community to learn and grow in tech, our community can help. Learn more about the discounts and special offers for nonprofits by visiting the TechSoup Product Catalog.
Additional Resources
Top photo: Shutterstock